All the job and internship offers regarding this establishment
Hotels and restaurants of this group which are recruiting now: contact details, jobs, spontaneous applications, social networks...
Back to the previous page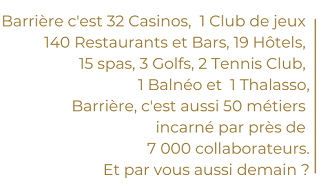 L'Hôtel Barrière Le Majestic Cannes
recherche des talents
Alpes Maritimes - CDI (H/F)

MARKET MANAGER for the Middle East
Contexte & Missions
Barrière's Hotel Group in Cannes is hiring a Market Manager (Leisure & MICE sectors) for the Middle East region.

He will be directly attached to the Sales Director of the Station (Cannes) as well as the Group Sales Director. His missions will be the following:

- Solicit Leisure and Mice agencies as well as private and corporate clients in the Middle East countries, in order to represent our Cannes Hotels as well as all Barrière Group hotels.
- Develop the global turnover in each market according to the set objectives.
- Prepare and organize carefully the travels and events within these markets, with any accompanying members of the Group.
- Qualify precisely any business opportunity before sending the business proposal, respecting the hierarchy of the customer base (Wholesaler / TO / agencies / concierge)
- Guarantee perfect communications between travel agents and the reservations department for all specific requests, as well as with the Front of House Manager for any delegation request.
- Supervise the annual renewal of contracts with the main local partners
- Organize, welcome and lead Famtrips and Eductours coming from these markets
- Insure regular follow-ups of existing customers and prospects
- Build an annual plan of action for sales and guarantee the Barrière Group's strategy in these markets
- Keep the customer data-base up to date in the Group's PMS
- Respect deadlines and formats of the internal monthly reporting (Cannes station and group headquarters)


A strong experience in the luxury hotel industry is essential to this position, as well as a professional approach with Middle Easter guests. Customer relationship, adaptability, organization, and dynamism are key qualities. We also value personality, sense of responsibility and a strong ability to listen and convince.
You will be completely independent in your organization and your travels, and have proven, in your previous experiences, your ability to build a long-term customer relationship. Teamwork and good communication are of course a must have.
Experience: a minimum experience of two years in the same position is required, with a strong knowledge of the Middle Eastern market & clientele.
Languages: English & Arabic must be spoken fluently

All our vacancies are open to people with disabilities.

Sought position:
MARKET MANAGER for the Middle East
Ref ID: n°67596
Town: Cannes
Contract type: Long term contract
Contract start date : As soon as possible
Salary: à définir sur place
Experience: experienced
Training course prepared:
Job status: Manager
Job category: Sales / Indoor - Outdoor
Online since 2019/11/18
This job position is still available for the week of
Print this job
Job notification
Apply here!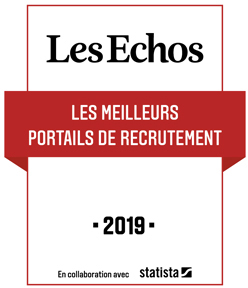 Our career section has been selected among the best job boards in Les Échos - Statista 2019 list: we are among the 8 best specialised websites according to recruiting managers and we are the only one dedicated to hospitality out of 50 websites.

We would like to thank and share this trophy with ultra-luxury and luxury hotels, candidates and recruiters who continually encourage us to even greater excellence.

Journal des Palaces' Careers Section post jobs in ultra-luxury and luxury hotels and gourmet restaurants worldwide and provide a complete toolbox to follow the applications: job alerts, application notebook, job notebook, files, newsletter... to guide you, whether you are actively seeking a new job or just on standby.

Recruiter, click here for more details about our Careers Section