Meeting with Simon Thomas, Head Concierge of The Lanesborough and International President of Les Clefs d'Or International (United Kingdom)

"Working in hospitality and as a concierge is a passion rather than a job"

Meeting with Simon Thomas, Head Concierge of The Lanesborough and International President of Les Clefs d'Or International (United Kingdom)

"Working in hospitality and as a concierge is a passion rather than a job"

Category: Europe - United Kingdom - Interviews - - Interviews
Interview made by Anne-Laure Hecquet on 2019-02-05

Simon Thomas talks about his rich and distinguished career and also provides key tips to young talents at the beginning of a career in luxury hospitality.

It is quite by chance that Simon Thomas started his career in luxury hospitality at the age of sixteen.
Indeed, he left school in North Wales and joined his grandmother in London to pursue his studies. But he missed his friends and home. So, he decided to go back. But first, he wanted to earn some money. Therefore, he went to the jobcentre and saw a job advertised as pageboy at the Grosvenor House Hotel …and that's how it all began.

"When I started [as a pageboy] I was so nervous. But my naivety and my age were helpful. I had no idea about 5-star hotels, but instantly I loved the job: talking to people, meeting and helping [them]." From then on, he never left the luxury hospitality sector and never looked back "service and hospitality are in my heart."
He particularly remembers the charismatic concierge he met at the beginning of his career: "I liked the way he was controlling everything." Being a concierge then became his goal as it made total sense for someone like Simon Thomas who cannot say "no". He points out enthusiastically, "as a concierge you say: yes, yes, yes of course".

After one year at The Grosvenor House Hotel, he was promoted to Junior Concierge before moving to the Sheraton Park Tower where he became Deputy Head Concierge after 4 years. He worked at the Sheraton for 7 years. At that stage of his career, he took the opportunity to resume his education. He truly believes in the need to "educate yourself constantly".

At 25 years old, he was offered the Head Concierge position for the re-opening of the five-star, Royal Hotel Garden. "I was very scared. I wanted to do it. I had to build the team and recruit all the staff: 30 people." He was, at that time, the youngest Head Concierge of a five-star hotel in London.
Then, Head Concierge, he joined the Renaissance Chancery and then the Brown's Hotel for its re-opening and to set-up and train the concierge department.

In 2014, he was appointed Head Concierge of the iconic Lanesborough Hotel and joined the re-opening team.
Simon Thomas is fully committed to complete client satisfaction. At The Lanesborough, he particularly appreciates the very high standard of services offered to the guests. He adds: "the expectations of clients are very high. They want an experience and have massive expectations. We need to deliver the promise we make: to be the best hotel in London". As he stresses "Oetker Collection absolutely gets customer service. You couldn't ask for a better company" as it is reflected in the motto of the hotel "Once a guest at The Lanesborough always a guest at The Lanesborough".

To offer that very high level of service to the guests, he is currently managing a team of 37 people, 9 of whom are concierges. He describes it as a "dynamic" team who can deliver the best to the guests thanks to a strong combination of skills and complementary profiles.

Regarding the key role of the concierge, he is very optimistic about the future: "Hotels are starting to see the value of the concierge as an expert". "I've been in the business for nearly 30 years and I've heard several times that this is the end of the concierge. Nowadays, the profession is very strong. There are more luxury travellers, with more demands, overloaded with information and they need a concierge. For a brand, to have a concierge service equates to luxury, with the message: we [companies] care for you [customers], we really like you, we want someone to look after you".

In addition to his position at The Lanesborough, Simon Thomas is the current International President of The International Executive Committee of Les Clefs d'Or. Concierge is a job done by passionate people. He knows how the members are massively proud to be a concierge and to be part of Les Clefs d'Or. Simon received his Golden Keys in 1992.

It is a very selective recruitment process to become Clefs d'Or: "We have 60 % fail rate". A candidate needs to be concierge for five years, the application is submitted to the Executive Committee and after approval the candidate is invited for an interview. Then you get to the next stage. When selected, the name is proposed to the rest of the members. Anyone can raise an objection.
Although more and more females are now concierges, he regrets the lack of female trained in the UK.

Simon Thomas has been keen on making sure that the recruitment process is unified which is a promise that the same level of service and the same kind of attention are delivered by each of the 4,000 members of Les Clefs d'Or all around the world. "World travellers know more and more what these little keys means".
Caring is at the heart of Les Clefs d'Or, "one of the things I'm passionate about is Corporate Social Responsibility (CSR). It is taking care of each other, taking care about the planet, the people. It is being a little bit more aware. Les Clefs d'Or was set up for that: to take care of the guest, to train the new generation and to look after our retired members. And this happened in 1952. We are the original CSR!".

Why work in luxury hospitality today?

It gives a glimpse of the world, it teaches elegance and deportment, it shows you another world.
You can travel worldwide with a career in luxury hotels.
It is incredible to be on the very top of the profession by giving the best. And the sector is always changing.

What would be your advice to young graduates?

Travel, read and educate yourself. Educate yourself constantly. When I had the chance to re-educate myself, I took every opportunity. I'm very proud to have been awarded The Master Innholder's scholarship for Cranfield University School of Management, where I graduated as a St. Julian's Scholar.
Have clear goals, don't be afraid about how it works, get involved.
Strive to be the best, strive to try harder.
Working in hospitality and as a concierge is a passion rather than a job.
Have a plan, a strategy, an objective you need to have a direction to decide what to do.
Keep your feet on the ground.

What is the guiding principle in your professional life?

Motto for my team: everything is possible
My Motto: leave it to me - Let me take care of it
Motto at the Lanesborough: Once a guest at The Lanesborough always a guest at The Lanesborough.
About the author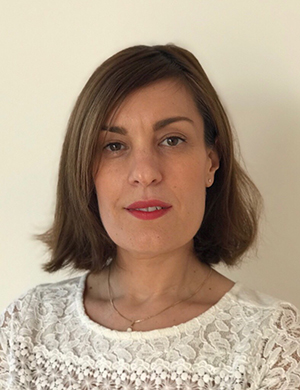 Anne-Laure Hecquet, Communication & International Development Manager
Specialized in communication and recruitment, Anne-Laure participates, since January 2018, in the development of Journal des Palaces by being attentive to the specifics needs of the recruiters and partners whether it is in the implementation of events or custom-made tools or services. Anne-Laure also writes articles for the Career section.