INTERVIEW - DAVID KELLY, SENIOR VICE PRESIDENT EUROPE, HILTON: "AT HILTON, WE TAKE GREAT CARE TO ENSURE THE WELL-BEING OF OUR EMPLOYEES BY OFFERING THEM ATTRACTIVE WORKING CONDITIONS

Hilton's senior vice president for continental Europe tells the Journal des Palaces about the values the hotel group holds dear as it embarks on a major European recruitment drive.

INTERVIEW - DAVID KELLY, SENIOR VICE PRESIDENT EUROPE, HILTON: "AT HILTON, WE TAKE GREAT CARE TO ENSURE THE WELL-BEING OF OUR EMPLOYEES BY OFFERING THEM ATTRACTIVE WORKING CONDITIONS

Hilton's senior vice president for continental Europe tells the Journal des Palaces about the values the hotel group holds dear as it embarks on a major European recruitment drive.

Category: Europe - Careers - Recruitment / Job / Training - Interviews
Interview made by Guillaume Chollier on 2022-07-06

With 18 brands and 6,800 hotels in 122 countries, Hilton is undoubtedly one of the world's leading hospitality companies.

Despite this presence on five continents, the group is busy developing its offer, particularly in Europe, where more than 200 establishments should open in the short term, including 60 by the end of the year.

Such a development implies a significant need for manpower. This is why Hilton is launching a large-scale European recruitment campaign, during which no less than 800 positions are available throughout the continent.

On this occasion, David Kelly, Hilton's Senior Vice President Continental Europe, explains to the Journal des Palace the group's HR policy on recruitment and reveals how Hilton defines and applies it during its various integration operations.

Why does Hilton is launching a major recruitment campaign across Europe ?
We have launched a recruitment campaign across Europe to recruit more than 800 people in order to support both
rising travel demand and our growth trajectory for Europe and France. Hilton plans to open more than 60 hotels in
total in Europe by the end of the year, and 237 hotels in the long term. In France, the group is expected to open
more than 20 additional hotels in the coming years.

Which positions are particularly important to fill?
Many positions are open across Europe, and in France in destinations such as Paris, Evian-les-Bains, Lille, Dijon and
Hyères. There are a wide variety of roles available, including in catering (such as chef, chef de rang, bar manager,
mixologist...), front office (receptionist, chef de Brigade...), and functions related to finance, sales, room service
and security.

What talent profiles are you looking for?
We welcome graduates from hospitality and business schools, as well as those new to the industry, including
career changers. Thanks to a number of training schemes in place, we are able to recruit candidates who do not
necessarily have a background in hospitality. What interests us above all is to find personalities who are
passionate about the world of hospitality, eager to learn as a team, driven by a positive attitude, and who want to
create unforgettable experiences for our guests.

How will this recruitment campaign in Europe be conducted in practice?
In addition to publishing open positions on our recruitment website (https://jobs.hilton.com), here in France we
also work closely with the Chambers of Commerce and Industry (CCI) to promote opportunities. We organise job
days at our hotels where people considering their career can come and speak with Hilton team members and
understand what makes working in this industry so magical and special.

We also meet talented people by participating in various job fairs, allowing us to exchange with potential
candidates. Finally, we collaborate with the main hotel schools in order to attract as many candidates as possible
and are present during their open days.

What is Hilton recruitment policy?
Attracting top talent and delivering exciting careers for our team members is a priority for our leadership teams in
all of our markets. We welcome applications from all those who apply, regardless of their experience or profile,
including people who consider hospitality as a second life career.

We strive to integrate diversity and inclusion into every aspect of the talent lifecycle – from talent recruitment to
talent training and development. We are proud to be recognized for our diversity and inclusion efforts by various
organizations, including Diversity Inc, Fortune, Great Place to Work and The Human Rights Campaign. In addition,
Hilton was recently awarded the Pride365 label for its efforts to support and promote LGBTQ+ equality and
inclusion.

How is the group dealing with the labour shortage in the hotel and restaurant sector?
For us, the need to recruit additional talent for our teams is also linked to the very strong growth we are experiencing in France and Europe. This is why we are so focused on attracting great people and continuing to cultivate the many advantages of working with Hilton such as competitive benefits, recognition of work accomplishments, personal support, and the opportunity to travel. We are very proud to be able to offer team members a career where they can grow personally and professionally.

Our corporate culture is recognised worldwide, and in France, Hilton took 2nd place in the overall Great Place to Work ranking, and first place among hospitality companies (category of 250 to 1000 employees).

What benefits are offered to the group's employees?
At Hilton, we pay particular attention to the well-being of our employees by offering them attractive working
conditions. This includes our continuing education programs and an apprenticeship program to help each team
member achieve their career aspirations at all levels.

According to a survey of Gen Zs and Millennials that we carried out in France this May, 60% of respondents favour
the ability to travel with work. As a global company, Hilton is well placed to offer our employees the opportunity to
work in other markets around the world. We also provide a travel discount program, Go Hilton, to allow Hilton
employees, as well as their families and friends, to travel at a discounted price to the group's various hotels.

In our survey we also found that nearly 8 out of 10 respondents feel it is important to work for a company with
purpose. With our Environmental, Social and Governance (ESG) strategy, Travel with Purpose, we seek to create
positive environmental and social impact across our operations, supply chain, and communities. We involve our
team members directly in achieving our 2030 goals. We have partnered with Clean The World in France to
strengthen our recycling efforts and offer hygiene products that are unused in our hotels to communities in need.

What measures has the group put in place to retain its employees?
According to our survey, 42% of Gen Zs and Millennials are looking for better recognition of their performance, and
35% for better career opportunities. At Hilton, our main goal is and has always been to create a caring, healthy and
flexible environment and culture that is conducive to the professional and personal development of our employees.

For example, we have developed two programs to help high potential individuals with some experience to become
department managers and hotel managers. We allow our teams to travel either by holding positions in our hotels
abroad, or through discounted stays both for employees, and their family and friends. We also offer flexible
working hours to help our team members balance their family and personal commitments.

What advice would you give to candidates wishing to join Hilton ?
We invite them to share with us their passion for hospitality and readiness to embark on a career that embraces
diversity, learning, team building, loyalty and leadership. In today's world of hospitality, you need to have high
levels of empathy and emotional intelligence that allow you to operate successfully in a team environment. The
ideal workplace is one in which talented team members work together by communicating, innovating, multitasking
and above all sharing a passion for hospitality. This is how Hilton continues to shine as a great place to work.

What long-term prospects does Hilton offer its employees?
Our dynamic working environment allows team members to understand and experience working in many different
roles. For example, a receptionist may very well, in the long run, become a hotel manager, and someone starting
as a cook can access managerial functions as they progress at Hilton. During our recent Team Member
Appreciation Week, we celebrated those who have been with Hilton for more than 20, 30 and even 40 years –
their impressive length of service is testament to the incredible culture that exists within our hotels and the
lifelong learning opportunities in hospitality.
About the author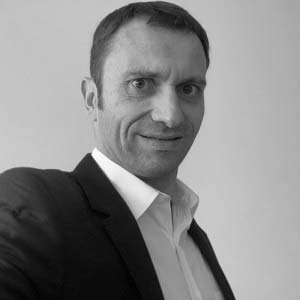 A journalist for 20 years, Guillaume is a fan of exclusive places where comfort, quality of service and gastronomy are combined. All this, tinged with a simplicity and a smile that are the prerogative of the ultimate luxury.