INTERVIEW - ÉRIC VIALE : "THE HOTEL INDUSTRY HAS EVOLVED, IT IS NOT THE SAME AS IT WAS 20 YEARS AGO, PARTICULARLY IN TERMS OF WORKING CONDITIONS".

Promising summer, multiple hotel openings in the pipeline, IHG's General Manager for Southern Europe, is particularly confident and ambitious at the time of the post-Covid recovery

INTERVIEW - ÉRIC VIALE : "THE HOTEL INDUSTRY HAS EVOLVED, IT IS NOT THE SAME AS IT WAS 20 YEARS AGO, PARTICULARLY IN TERMS OF WORKING CONDITIONS".

Promising summer, multiple hotel openings in the pipeline, IHG's General Manager for Southern Europe, is particularly confident and ambitious at the time of the post-Covid recovery

Category: Europe - - Interviews
Interview made by Guillaume Chollier on 2022-07-15

Eric Viale, a graduate of the hotel school in Thonon-les-Bains and of the University of Angers and the University of Houston, is Managing Director of Southern Europe for Intercontinental Hotels Group (IHG).

After ten years with the Accor Group, Éric Viale joined IHG in 2003 and held various positions: Regional Director of Revenue Management for Southern Europe, Director of the Revenue Management Division for Europe, and then Director of Sales and Marketing for the Intercontinental Paris Le Grand, until 2011. He was then in charge of the group's hotels in Portugal, before taking the position of group general manager for Southern Europe.

With 30 years of experience in the hotel sector, Éric Viale talks to the Journal des Palaces about the evolution of the business in recent months and IHG's strong development ambitions.

Journal des Palaces: What does your position as Managing Director of Southern Europe entail?
Éric Viale: As far as the job itself is concerned, I am responsible for the strategy of the territory in which I operate, whether it be growth in partnership with the development team, the operational performance and quality of the hotels and of course the performance of the hotels' sales, quality and profitability. I look after both the franchised hotels and the hotels that we manage directly, all brands combined, so among our four brand collections.

The territory of Southern Europe extends from France to the Iberian Peninsula, Italy, the Balkans, Greece, Turkey and Israel. This is how we define Southern Europe at IHG. That's about 200 hotels.

What are the main trends in the hotel industry for this summer season 2022, after a period that has been a bit difficult for the sector?
Performance has been recovering very strongly since the end of the first quarter, because during the Covid period we were able to benefit from new customer segments, depending on the hotel and the market. We have entered a dynamic of strong recovery in demand. The balance was achieved after the first few months which were impacted by Covid. As of March and the end of the restrictions, we noticed that travel has clearly picked up. The forecast was for several years to return to the performance of 2019. But for some hotels and markets, we are already at 2019 levels, and the summer is looking better than 2019 in many markets.

Have all foreign customers returned?
Yes, with the exception of China which still has a zero visa policy, and Russia for obvious reasons. Otherwise, most of the major international markets have returned in all destinations. Coming out of Ramadan, we saw the Middle East come back in line with what we have seen in the past. We felt the desire to indulge as soon as the restrictions were lifted. What we're also seeing is that we're selling nicer suites, nicer products, so it's really driving up the average price of hotels.

The events and business tourism sector is following this trend?
In fact, we noticed, including during the pandemic, that there were a certain number of hybrid meetings being held, with a certain part together and another part connected. I think that the lifting of restrictions has really affected companies that have the will and the need to reconnect employees.

What are the group's objectives for this summer and until the end of the year?
Our main objective is really to continue to develop and grow. Our ambition is to become a leader in development. To do this, we have a portfolio of differentiated brands on which we have worked a lot, including during the crisis period. In the first quarter of 2022, we opened 17,000 rooms worldwide. That's 15% more than in 2021. In the next few years, 278,000 additional rooms will be created, which represents growth of 2.4%.

We have also invested heavily in the luxury and lifestyle segment, where we want to accelerate our growth. This has resulted in the acquisition of luxury brands such as Regent, but also the creation of new luxury brands such as Vignette Collection. In addition, we have capitalised on our leading position in luxury with other brands. For example, with Intercontinental, which is internationally recognised and which celebrated its 75th anniversary. So our desire is to continue to strengthen our brands, those that correspond to a demand and the expectations of our investors. And, of course, always focus on service quality and customer satisfaction. In 2021, we finished above the customer satisfaction index.

What has enabled IHG to continue to invest during the health crisis, when other groups have been hit hard and had to cut back?
IHG's size, strength and global footprint have allowed us to continue to do so. Today, we have more than 50% of the IHG portfolio in the Americas, 26% in Europe, the Middle East and Africa and 16% in China. Afterwards, there were inevitably short-term adjustments, particularly during the most complicated period of the crisis. But investments in the medium and long term, in the quality of our brands, in technology and in digital technology have been maintained, because the vocation of tourist travel is to grow and to continue to grow in the years to come.

You mentioned earlier the number of beds about to open. Can you give us an overview of your perimeter, Southern Europe?
The group has about 200 hotels in Southern Europe. And there is one main market where we continue to grow, France. Today, we have 63 hotels open there. We have a leading position there and we continue to grow in the luxury lifestyle segment, while of course continuing to invest in our more established brands, such as Holiday Inn Express. To mention a few signatures, we recently signed the Crowne Plaza in Marseille, an Indigo in Cagnes-sur-Mer, a Holiday Inn Express in Ajaccio... We are making a big development on the French coasts, since this is where the interest of investors and our partners to grow lies.

In Southern Europe, there are four large markets on which we have put more resources in terms of development: Spain, Portugal, Italy and Turkey. We recently opened the InterContinental Barcelona and the Kimpton Aysla Mallorca is expected to open in the summer of 2022, which shows the dynamics of this type of luxury lifestyle product.

Other openings are planned: an InterContinental in Ankara, the Grand Plaza on the Bosphorus, next to Istanbul, an InterContinental in Tirana, Albania, and another in Montenegro, in Canj, in 2023.

Are you still building or taking over existing buildings?
There is construction, but we are seeing an acceleration in the conversion of existing buildings. That is why we have also deployed our own brands in partnership with the owners. All brands can be used for conversion, but some, such as Vignette Collection, are designed from the outset for this conversion market, which is accelerating significantly.

How do you decide on the cities in which you set up your hotels?
There are markets that we know perfectly well because we are already present there. We make sure that the demand is there. We know the numbers, the forecasts and the opportunities. We have put resources in place in these markets. We want to grow hand in hand with our owners knowing that we are going to be able to bring value.

And then there are markets where we are not yet present. So we look at the country's trend, we look at the macro-economic indicators on growth, on the development of airports, on accessibility. And then we know that when these countries open up, the brands will bring in the necessary business to be successful. It's really about understanding the market, its potential and then our ability to deliver.

Since the recovery, which brands are doing particularly well within your group?
We are seeing a real demand for luxury lifestyle. Most of our hotels are performing better than in 2019. To date, all the brands are benefiting in one way or another from this recovery. There was some anticipation on certain brands, luxury and lifestyle. But really, we feel that things are picking up very strongly.

Are all your hotels 100% operational, given the recruitment difficulties that can be encountered in the sector?
We have 100% of our hotels open in Southern Europe. We know that the industry was affected by recruitment difficulties at the end of the crisis.

We have taken the issue head on and defined several areas: retaining our talent, growing it, keeping it motivated and then attracting new talent. We have invested massively in training, for our own teams but also to enable more people to discover the hotel business. We have platforms that are accessible locally and externally.

The philosophy at IHG is to offer its staff a real career, with a capacity for evolution which is quite incredible. Some employees have been able to reach great positions, thanks to their loyalty to the group. This is what we need to communicate today.

At IHG, we have also made a commitment to the well-being of our employees, as well as to the positive impact we can have around the hotel. We are working hard on the way we hire: changing the traditional way of recruiting on skills but instead recruiting on personality, potential and desire.

We are also changing the way we communicate, the media we use to find new candidates, on Tiktok or on a more traditional advert.

The hotel industry has evolved, it's not the same as it was 20 years ago, particularly in terms of working conditions. I think our general managers have understood the message.

Are you looking to recruit?
If 100% of our hotels are open, we still have new employees, new talents to welcome.

IHG is very involved in the "We care for each other" aspect: we work a lot on the development and coaching of our teams. We advocate a real policy of communication between teams, as well as accessible leadership, which gives everyone space to shine, which accepts the right to make mistakes. That's how we grow.

Meeting young people is always a pleasure, it allows us to make small business cases and to pass on the passion. The hotel business is about meeting people, generosity... That's why we support the Sustainable Hospitality Alliance.

Have you also set up mentoring?
We rely heavily on mentoring. I personally mentor three employees. We always need someone with keys or to have discussions. It works quite well, we make strong commitments to surround people, talents who have expressed a desire to grow, on whom we invest a lot of time.

It's quite nice and the mentoring also allows us to learn from this new generation, from their desires.
About the author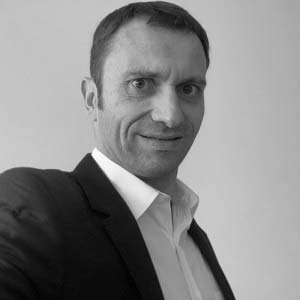 A journalist for 20 years, Guillaume is a fan of exclusive places where comfort, quality of service and gastronomy are combined. All this, tinged with a simplicity and a smile that are the prerogative of the ultimate luxury.