INTERVIEW - STÉPHANE ENTEM: "BRAINFINGER DESIGNS STANDARD AND CUSTOMISED FURNITURE AND DEVELOPS ITS OWN ECOSYSTEM"

Brainfinger, a French company based in Normandy, offers revolutionary tactile surface furniture for the hotel and restaurant sector

INTERVIEW - STÉPHANE ENTEM: "BRAINFINGER DESIGNS STANDARD AND CUSTOMISED FURNITURE AND DEVELOPS ITS OWN ECOSYSTEM"

Brainfinger, a French company based in Normandy, offers revolutionary tactile surface furniture for the hotel and restaurant sector

Category: Europe - - Interviews
Interview made by Guillaume Chollier on 2022-09-05

With the digital revolution, the world of touch is now omnipresent in our daily lives and no longer applies only to telephony. The hotel and restaurant industry, like many others, has also adopted this technology, both to improve the customer experience for its visitors and to facilitate the work of its teams.

Brainfinger, a manufacturer of touch-sensitive furniture, has understood this change and has created several collections for luxury hotels and restaurants. In addition to a design that will meet the expectations of the most demanding customers, Brainfinger's touch furniture benefits from its own ecosystem, which allows for total control of content, increased security and better data protection.

Stéphane Entem, the founder of Brainfinger, is currently in talks with a number of institutions interested in the added value that his products can bring. This graduate of a graphic arts college explains to the Journal des Palaces the genesis of his activity, the incredible potential of his tactile furniture and the uses that can be made of it, both by the establishment's clients and by its staff. Finally, he reveals the areas of development around the Brainfinger ecosystem, which will allow, in the near future, to further increase the performance of its productions.

Journal des Palaces: How did you come up with the idea of creating tactile tables?
Stéphane Entem: A client who is used to soliciting me for needs and requests out of the ordinary, introduced me to one of his partners who needed to equip 110 jets for a private company in England with six tactile desks per plane. This market was not yet exploited. I thought I might have hit on something interesting and with some potential. I went into R&D to find the right technologies to make a reliable and quality product.

What are the main characteristics of these tables?
Brainfinger stands out on many points:
- The quality of the touch surface is flawless. The biggest problem is the shifting of the touch, a redundant phenomenon that moves the touch point away from your finger over time. Each time the touchscreen is shifted, it has to be recalibrated, which is very inconvenient for both the user and the owner. Brainfinger has a touch technology that does not require any calibration over time.
- Brainfinger has its own ecosystem, called Kortex. It is a complete environment that simplifies every need or use, increases security at all levels and offers unique reliability.
- An encryption and encoding system that increases the security of content and applications regardless of their origin.
- Its IP65 surface in the tray, so no worries with liquids, even hot ones or sodas.
- A space of only 3 millimetres between the finger and the image.
- The surface of the touch panel is equivalent to a 3 mm safety glass
- Its image quality with very good brightness
- A high-performance embedded PC that allows for all possible applications, including real-time 3D integration.
- Multiple connectivity
- A complete set space whatever the size of the screen

How does the Brainfinger eco-system differ from the competition?
No touchscreen furniture has its own ecosystem, unlike Brainfinger. We have therefore developed our own ecosystem, which can be likened to what we call middleware. This allows us to have total control over remote assistance and updates by the customer(s) via a Manager Control, whether on a piece of furniture or on a complete fleet throughout the world. A proprietary encryption and encoding system increases the level of security of not only the content but also all integrated applications. Multi-application use allows for maximum diversity of experience and multiple data reporting dashboards for professional teams and managers.

In 2023, Brainfinger will open a private application marketplace on its new website for all owners of the brand's furniture to add or remove applications very easily. A simple, convenient, secure environment without the need to spend a lot of time.

What are the different table models you sell?
Brainfinger currently offers five lines of furniture, which can be used as coffee tables, high tables, lecterns and totems. These standard models can be customised: paint colours (matt/lacquered), metal finishes (rough/brushed/mirror-chromed), but also if the customer wishes to have longer tops or specific heights.

Our furniture can of course be customised and we can also make customised models at the request of our customers.

What sizes of furniture and screens do you offer?
Our range includes 32, 42, 46 and 55 inch screens. In the near future we will be offering 65, 70, 85 and 90 inch screens.

Who is the target audience?
Brainfinger is aimed at almost all sectors and all profiles, but in a logic of deployment, we are concentrating on the luxury segment, which we have divided into 3 strata:
- 5 star hotels, 5 star+ hotels and Palaces
- Luxury Retails
- Mobility: high-end car dealerships, private yachting, private aviation

We are able to offer unique experiences and above all real added value to all these activities.

Can you give us specific examples of use in the luxury hotel and casino sectors?
In the luxury hotel sector, the place where the experience is richest and most interesting, both for the end customer and for the hotel staff or manager, is in the rooms, and more precisely on the lounge side. The projections we have made are as follows:
- A quality design
- A fully personalised environment linked to each hotel and palace
- Applications integrating novels, press, comics, etc.
- Management of the room's home automation (lights, windows, air conditioning, etc.)
- Access to all concierge services
- Access to all the hotel's services and especially a dedicated spa environment
- Multiple applications dedicated to the hotel:
In-room dining: access to the complete menu, photos, videos, description, sommelier's proposal
This tool is also connected to the catering service allowing to manage in real time all the orders, with colour codes per room in order to optimize the waiting time of each one but also a dashboard of reporting data to optimize also the menu, the processes and the tastes of the customers. A very easy to use tool also allows the hotel to update all content.
External applications add to the hotel applications: games, applications... We propose a new way to use Deezer with the speakers in the room and to be able to watch simultaneously the clip or the concert of the listened song.
- Classical applications on the bedroom screen deported to the table with VOD film management but with a multiscreen content playback mode.

Does your system have any other special features?
Our ecosystem (KORTEX 2.2) includes a multilingual keyboard with a basic setting of 12 nationalities. This virtual keyboard opens when the user touches any area that requires input.

We propose an additional axis of remuneration is also possible, with the integration of an advertising agency in several modes:
Complete management by a hotel department
Management of the advertising department by Brainfinger - Monthly commissions paid to the hotel
The hotel can give guests the option of displaying this advertising space or not. The advertisers will only be linked to the luxury sector: Bentley, Chanel, Chaumet...

The possibilities are almost limitless. We recommend that Brainfinger carry out one or more consulting or brainstorming sessions with the hotel in order to take stock of what is available, what the teams or managers would like to see, but also what we can bring in addition. This gives the hotel real visibility of potential and added value.

Are your tables equipped with a sanitary device for safe use?
Our technology allows us to have an IP65 tray seal, which means no risk with liquids, even with heat or sodas.

The touch surface is as strong as 3mm safety glass.

Finally, following the health crisis, we equip all the tactile surfaces of our furniture with a French patent (with a national certificate from INSERM) allowing to destroy all bacteria, microbes and coronavirus (even in the form of airborne particles) in an immediate and instantaneous way. All this, without affecting the comfort of use, of course.

Are you responsible for the creation and maintenance of these tables and the applications they contain?
Brainfinger designs standard and customised furniture, develops its own ecosystem, as well as multiple applications, and even complete multi-application environments.

For follow-up and maintenance, a private platform between the client and Brainfinger is always available in order to be as efficient as possible for all types of requests. One of the advantages of this proprietary ecosystem is that we can intervene on the entire application part remotely and in real time.

What other services do you offer?
We can manage our customers' content as soon as we receive it, we can create new complementary applications, offer premium packages or add additional technologies such as RFid or NFC modules, often linked to connectivity needs in addition to the standard WiFi, Bluetooth, USB and Ethernet. Among many other possibilities.

Who are your customers in the luxury hotel industry?
Covid has largely held back the deployment of the brand. Our main contacts are in Asia: Hong Kong and Shanghai in particular. Several exchanges have also taken place with hoteliers in Japan and the Emirates, with NDA contracts for the moment.

What feedback have you received from these two sectors?
The feedback we have received from professionals in the hotel sector is extremely positive and promising. They have been very impressed by the quality of our product, its finish and especially the level of user experience. The design of the proposed furniture has also been very attractive.

What are the areas of future development for these tactile tables?
There are many areas of development:
- Increasing the applications and user experiences or professional layers
- The integration of Smart Contract NFT for each Brainfinger model
- The opening to a first consumer segment, with a global vision SmartHome Hype
- Selling exclusive WEB 3.0 models for Metaverse environments
- Continue the evolution of our KORTEX ecosystem with additional layers of A.I. (Artificial Intelligence)
- Increase inter-connectivity experiences around Brainfinger furniture allowing it to fluidify data between multiple devices creating actions: man/machine, machine/human, machine/machine...
About the author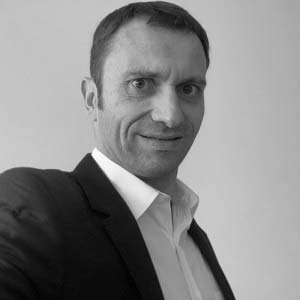 A journalist for 20 years, Guillaume is a fan of exclusive places where comfort, quality of service and gastronomy are combined. All this, tinged with a simplicity and a smile that are the prerogative of the ultimate luxury.