INTERVIEW - MARINA KAWARAZAKI, TALENT ATTRACTION SPECIALIST, DORCHESTER COLLECTION : « OUR ULTIMATE VISION IS TO CREATE AN ENVIRONMENT WHERE OUR TEAM MEMBERS FEEL SAFE AND RESPECTED »

Talent attraction specialist for Dorchester Collection, Marina Kawarazaki outlines for Journal des Palaces the luxury hotel group's recruitment strategy

INTERVIEW - MARINA KAWARAZAKI, TALENT ATTRACTION SPECIALIST, DORCHESTER COLLECTION : « OUR ULTIMATE VISION IS TO CREATE AN ENVIRONMENT WHERE OUR TEAM MEMBERS FEEL SAFE AND RESPECTED »

Talent attraction specialist for Dorchester Collection, Marina Kawarazaki outlines for Journal des Palaces the luxury hotel group's recruitment strategy

Category: Worldwide - Careers - Recruitment / Job / Training - Interviews
Interview made by Guillaume Chollier on 2022-12-07

Dorchester Collection was founded in 2006 to manage a portfolio of some of the world's foremost luxury hotels in Europe, the US – and soon – Dubai. Its none hotels are all legendary in their own right, with rich heritages and worldwide reputations.France is particularly well represented in this group as two Parisian establishments belong to theDorchester Collection: thePlaza Athénéeand theMeurice.

Marina Kawarazaki has been working in the group's human resources department for over four years. Previously with The Carlyle in New York, she agreed, for the Journal des Palaces, to talk about Dorchester Collection's recruitment strategy and the benefits granted to employees in order to retain them within a group where excellence, authenticity and the quality of life granted to all staff are constantly at the centre of concerns.

Journal des Palaces : How do you perceive the current employment situation?
Marina Kawarazaki : We are happy to see improvement in the employment situation following the challenges we have seen over the last few years. It is no secret that hospitality was one of the worst-hit industries during to the covid-19 pandemic and we continue to see the reverberations of this, however we have implemented a number of measures (detailed below) in order to address this. We are seeing our guests return and our beloved hotels are as busy as ever. We love the hospitality industry so we are keen to see it flourish again and remain an employer of choice. We also appreciate the loyalty of our existing employees as Dorchester Collection's philosophy of We Care has always been the centre of our people-focused culture.

How do you deal with the shortage of talent?
We have been reviewing a number of new strategies across all of our hotels to deal with the shortage of talent. For example, in many departments we are implementing efficiencies in our technology, ensuring we are maintaining our level of guest experience and the human touch. We are implementing a more flexible approach to our employee needs for their work arrangements, engaging with each and every employee more frequently with a view of retaining our talent.

How do you recruit today? Have you implemented any changes in the process in recent years?
We have definitely started to look for talent differently. We previously heavily recruited from hospitality schools and hospitality focused channels – while we still do maintain these partnerships, we have been looking outside of the hospitality industry as well. The key to this is to focus on training, making sure we are supporting those that may not have knowledge of the hospitality industry so they can succeed in their roles. There are many other industries which have transferrable skills that are applicable to many of the roles we have within our hotels and we have seen success in this method. We have also started working with younger students and even parents to start getting them excited about this industry early on, and debunk any preconceived notions they may have about the hospitality industry.

We have hotels around the world so moving talent across the Collection has become more common. We always look to fill roles with internal candidates before looking externally.

May you tell us more about your pop-up Recruitment Day? A great idea to go out the traditional way. May you share some figures of previous events?

We love hosting recruitment open days and have these periodically in all our hotels and corporate office. During these events, candidates can get a better understanding of the hotel, learn about the role, and meet their future managers and team. I think this is a great way to break the ice and we always strive to make every candidate feel welcome – a sneak peek into what life is like at Dorchester Collection. From a talent specialist's point of view, recruitment days are an efficient way of filling many jobs at once and easier to schedule with hiring managers. We have an open approach to recruitment, so if the role you have applied to is not the right fit, it's a great opportunity to learn about other roles we have within the hotel or elsewhere in the company. We ask our People & culture teams and leaders to think more broadly in these instances.

You are looking for many young managers. Can you tell us more what hospitality school trainees can expect from you? and graduates?
We have a robust management training programme called Ultimate Leaders Programme (ULP). Aimed at recent graduates or high-performing internal hires, the programme gives you the invaluable skills and leadership exposure to accelerate your career within Dorchester Collection. Our ULPs complete two six-month rotations in different departments in order to gain operational knowledge about the hotel and the skills that are needed to be a good leader. We work with Swiss Education Group to send all of our ULPs to Switzerland to learn how to embrace organizational change and to create psychologically safe cultures for their teams. Following graduation from the programme, our ULPs are guaranteed a supervisory or assistant manager role within their hotel or another one within Dorchester Collection. It's a wonderful way to grow our talent into the future leaders of Dorchester Collection, and we have many wonderful examples of our former ultimate leaders in different leadership positions within the company.

How do you integrate new employees? Have you changed your approach here too?
All of our employees attend Engage, our unique onboarding programme to learn about the vision, mission, and values of Dorchester Collection, the history of our nine hotels, and get to know other employees that they'll work with. This allows employees to be fully integrated and set them up for success in any of the roles they do. As mentioned previously, we are looking at other talent pipelines outside of our traditionally used channels, so we have had to change our approach. We have recently created a special training called "fundamentals of hospitality". We identified a gap in those employees who came from outside of the industry, so the course is designed for them to learn the basics about hospitality, including opening their career horizons to the many areas hospitality has to offer like Finance, Sales, People and Culture, Digital Communications, IT to name a few, the unique excitement of engaging with our guests, the jargon that they may not have if they haven't previously worked in hospitality or in the service industry. We feel this will help bridge that gap and have employees invested in the industry from day one.

What benefits do you offer to retain your employees?
We have some of the most competitive benefits in the industry. Firstly, at Dorchester Collection we truly care about your career and are known for having the absolute best people in the industry. When you join us, you start a unique opportunity to become celebrated as the very best in your field. You'll learn not only from your fellow Legends, but also through our award-winning Dorchester Collection Academy, so that you can achieve the highest standards of craft, service, and leadership and become a legend in your own story. We ensure this through what we call "Your Plan" which all employees complete with their managers once a year, with regular check-ins between. We are lucky we have such a learning-focused culture so we invest heavily on training.

Undoubtedly one of our favourite benefits for our employees are our free hotel stays. As an employee of Dorchester Collection, you're able to stay at each of our hotels twice per year, three nights per stay with breakfast included! We are continuously reviewing our benefit offerings to ensure they are competitive and inclusive.

How do you ensure the quality of life of your employees at work?
When Dorchester Collection started twelve years ago, we set our vision of creating a business where every decision, every growth opportunity, every change to a service considered our people ahead of all else. We've continued this throughout the years, as we know that People are what make us special. This why we create an engaging and effective approach to onboarding and upskilling, ensuring our people are fully engaged with our vision, values and core standards, enabling them to become ambassadors of our hotels. Our ultimate vision is to create an environment where our staff members feel safe and respected, allowing positive engagement to prosper through the embodiment of our values – passion, personality, respect, working together and creativity.

Paired with our overarching company mission, we do an employee engagement survey three times a year to gather feedback from our employees. We take these surveys as an opportunity to have open conversations about how our employees are feeling and implement any improvements we can. We have a "quarter century club" for employees who have been with us for over 25 years, and one-third of our workforce has been with us for 10 years or more. This is truly a testament of the culture we have at Dorchester Collection and the commitment our people have to us.

Management is sometimes blamed for employee departures. What advice do you give to managers? And what do you provide to help them carry out their tasks?
I recently read a Gallup article that estimated "managers account for at least 70% of variance in employee engagement scores across business units". While blame shouldn't be placed solely on management, I think there are some key steps that people managers can take to ensure engagement within their teams. Firstly, transparency and communication with your team helps employees feel informed and part of something bigger. Empathy and listening are also vital in fostering a culture in which everyone feels a sense of belonging. We support our managers in doing so as much as possible. We have a structured learning & development courses so that employees at any level get the support they need to do their roles well. At the manager level, we have three training programmes, Lead (aimed at new supervisors/managers), as well as Expand and Inspire, which all focus on different elements to give managers the "how to" in becoming not only an effective but inspirational leader.

Have you also introduced mentoring?
Informal and formal mentoring exists during our onboarding period and within our learning and development programmes. All of our Ultimate Leaders in our management trainee programmes are allocated a mentor and buddy as part of their development.

What positions are you recruiting for now?
We have a number of open positions, depending on your career aspirations. Currently we have ramped up our investment in our ultimate leaders programme, so it is a great time to join in this role. We have the exciting opening The Lana, Dubai next year so will be recruiting for this in the new year! All of our opportunities can be viewed on www.dorchestercollection.com/careers

Why should we work in the luxury hotel industry today?
Simply put, being able to work with the best of the best, with people who are passionate about what they do. For us, that means despite where you work in the world – within the luxurious splendour of Paris, the elegance of Milan and Rome, the vibrancy of London, rural charm of Ascot, the famous red carpet of the Beverly Hills Hotel or calm oasis of Bel Air - you would feel and be a part of somewhere iconic, extraordinary and legendary. You would have the chance to work with a brand which truly helped you, whoever you were, be yourself and thrive. We ascribe to "Your Future, Our Legacy."

What advice would you give to a young person who is thinking of starting a career in the hotel and restaurant sector?
The hospitality industry is perfect place to start your career in. Whether you want to be in service, as a chef, in finance or in marketing, there are countless opportunities. Often people have a misconception of hospitality thinking they want to have a "traditional" job, not knowing hotels have almost every avenue you could imagine. At Dorchester Collection we have internships, apprenticeships, a management graduate programme, and countless entry-level roles to start your career with us, and hospitality is career that will service you for many years to come. All this being said, the industry welcomes people at any stage in their life and career, so if anyone is looking for a career change, I encourage you to look into hospitality!

And what advice would you give to a candidate who wants to join you?
Be yourself! Personality is one our values at Dorchester Collection and we recruit strongly for it. We are firm believers that if you bring the right attitude and come with an open mind, we can teach you the rest.
About the author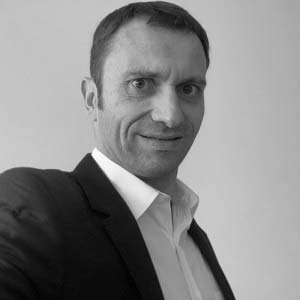 A journalist for 20 years, Guillaume is a fan of exclusive places where comfort, quality of service and gastronomy are combined. All this, tinged with a simplicity and a smile that are the prerogative of the ultimate luxury.