INTERVIEW - IVAN ARTOLLI, MANAGING DIRECTOR, HÔTEL DE PARIS : « YOU'RE ALWAYS SERVANT OF YOUR TEAM, EVEN IF YOU LEAD IT » (Monaco)

Winner of the Leading Legend 2022 award, Ivan Artolli share with us his meticulious work at the head of Hôtel de Paris in Monte-Carlo, where he is Managing Director since 2016, and his vision of luxury hospitality and its challenges for future.

INTERVIEW - IVAN ARTOLLI, MANAGING DIRECTOR, HÔTEL DE PARIS : « YOU'RE ALWAYS SERVANT OF YOUR TEAM, EVEN IF YOU LEAD IT » (Monaco)

Winner of the Leading Legend 2022 award, Ivan Artolli share with us his meticulious work at the head of Hôtel de Paris in Monte-Carlo, where he is Managing Director since 2016, and his vision of luxury hospitality and its challenges for future.

Category: Europe - Monaco - - Interviews
Interview made by Christopher Buet on 2023-01-13

The story doesn't say if he had time to visit the famous Chichén Itzá's archaeological site and see the Aztec pyramids, located not far from Riviera Maya where the annual Leading Hotels of the World's conference was held last year. One thing is certain, Ivan Artolli was honored in Mexico by managers and owners of 404 independent luxury hotels and industry leaders, grouped under the Leading Hotels of the World's umbrella. His peers, awarded him the Leading Legends Award. The reward for 35 years of dedication to the luxury hotel industry.

Since his teenage years, the Padua's native has dedicated his life to this unique industry, seeing it as an opportunity to transcend his condition and satisfy his thirst for knowledge and travel. After attending the hotel school in Abano Terme, near Venice, as well as the EHL in Lausanne, the former Cornell student (USA) traveled throughout Europe to perfect his hotel education and above all his mastery of languages, which he considers essential in his future work life.

His journey of initiation took him to Germany to the Brenner's Pak Hotel in Baden-Baden, then to England to the Lygon Arms, a 700-year-old institution located on Broadway in Worcestershire, before heading to London and the Claridge. And finally to France at the Ritz in Paris and (already) at the Hôtel de Paris in Monte-Carlo.

With the experience acquired during his travels, the Italian was noticed by Rocco Forte group, which he joined in 1992. For 17 years, he developed his skills and climbed the ladder until he was appointed head of the Hotel Savoy in Florence in 2000. Fluent in four languages (Italian, German, English and French), Ivan Artolli has managed to impose his subtle and nuanced style, close to his staff and his clients, and has succeeded in creating a soul into each of the hotels he has worked in. Like at the Hôtel de Paris, which he has been running since 2016 and whose renovation he led with brio.

A few weeks before heading to the annual general assembly of EMHA, from 10th to 12th February in Lisbon, and Master Innholders, its British equivalent, 23th and 24th January in London, the Monégasque by adoption agreed to share with Le Journal des Palaces his informed view of an industry that is constantly changing and that still fascinates him after almost four decades.

Journal des Palaces: What does the 2022 Leading Legend's award, received at the annual LHW conference in Mexico, mean to you? Did you expect to receive such an award?
Ivan Artolli: This award is very important because I have been working in the Leading Hotels of the World collection since I was 16 years old. Without planning it too much, I have done more than a dozen LHWs. At first, I thought becoming a department manager would be magical, then when I became one, maybe if I applied myself and learned, I could go further and become a manager of a hotel and then several... So to receive this award is a very great honor that I didn't expect because there are outstanding talents in the hotel industry.

The jury praised your passion for true luxury hospitality. For you, what is luxury: a timeless thing or a something embracing the codes of its time?
It's a bit of both. The timeless side is what I would call the generosity of soul. In the hotel industry, we use the words hospitality and service. Service is what you do with your arms and body. Hospitality is when you put your soul and your intelligence at the service of the quality of the service, the personalization of the client and the search for perfection.

What embraces the codes of our time is speed. Customers now expect an immediate response. The solution may not be immediate, but the answer is. Why does a customer choose one hotel over another even if it costs more? He does so because he buys the "all-risk" assurance that if he asks for something, in one way or another, someone will take care of his problem and solve it. Personalization, adaptability, the fact that we manage to create unforgettable experiences and memories for our clients, is linked to time.

Luxury is also about attention to details...
The English say: "Devil is in the details". This is very difficult to teach. I explain to my employees that when a client decides to spend a weekend or a few days, he thinks about where he wants to go. Our reputation works for us. The detail of our behavior and attention to the client is paramount. A guest cannot arrive and not find his room perfect, cleaned to the last detail, with little touches that match the price he pays. Our vision is: "From dream to emotion". This means that we must transform the dream of our customers into emotion. We must be the actor of their enchantment.

Is this award also a reward for your teams?
When I received this award, I thanked the teams for whom and with whom I had worked. You are always servant of a team even if you are the head of it. You serve its goals and make sure that each member can give the best of himself. We saw that again at the World Cup. When as many players as possible are willing to sacrifice themselves for the common good, that's when the team wins. I am only as good as my teams. I depend entirely on them.

For the past six years, you have been involved in the transformation of the historic Hôtel de Paris. What exactly was your role? 
When I was at Rocco Forte, there was a head office in London, but as Managing Director in Sicily, I made almost all the decisions there, except for the decoration because Mr. Rocco's sister is a decorator. Here, even the sovereign participated in certain decisions on the renovation of the Hôtel de Paris, including the way the two prestige suites, named Rainier III and Grace in honor of the Prince's parents, were furnished.

What is clear is that we are the creators of the client's experience, and we must sublimate this legendary setting that is the Hôtel de Paris. When we arrived here, with my number 2, we visited hotels in Europe to see what we would find. We looked at what was on offer: sheets, mattresses, cushions, hospitality products, the efficiency of the minibar, wifi, how easy it was to communicate with the staff, the quality and speed of service. We put these elements together with our own requirements to design the guest experience of our hotel.

When you arrived, did you feel free to do what you wanted or did you have to deal with specific objectives?
Only the owners are free to do what they want. At my level, there is no freedom, except to make proposals on what, we think, is the best for the hotel. We are always composing with the goal of improving the customer experience. For example, there is a big trend towards digitalization. Today, a client can check-in before arriving, have his key on his phone and check-out without going through the reception. Our goal is not that they don't have to go to the reception, but we have to give them the possibility to choose the way they want to communicate with us. Digital will help us tailor the experience to the individual.

Aren't you afraid with digitalization to dehumanize hospitality?
No. I come from a culture, at Rocco's, where we didn't want to put coffee machines in the rooms because we thought guests preferred to be served. That was 20-25 years ago. Now, in the finest hotels, you can make your own coffee and tea. My point is to make it easy for people.

I saw a clip from Delta Airlines about travelling to the future, and the company warns the customer the night before about the flight time and traffic conditions. When he arrives at the airport, he goes through a tunnel, leaves his luggage and can decide if he wants to pick it up on arrival or at the hotel directly. On the plane, he can communicate with all the passengers and the system asks him if he wants something when he gets there. The system allows to constantly anticipate and helps the customer in his experience and at the same time to expand what there is to sell to the customer: transportation, food, delivery...

What difficulties have you encountered in modernizing this institution?
The most difficult thing was to take a team from the past and transfer it to the present time and the future. Usually, hotels close for two years, which allows them to reach agreements with unions and start again with a new team. What we have done is to ensure that the change can be anticipated, digested and accepted. This takes time, and we are still working on it today.

What are the next projects you'd like to carry out at the Hôtel de Paris and keep it at the forefront of luxury?
We are developing a new restaurant concept in the hotel's patio. The chef of the Coya, Victoria Vallenilla, from Venezuela, will create a concept based on South American cuisine. We are also thinking about a concept of a bar with a small restaurant on the terrace of the Empire Room this summer and for the second season in a row, we'll reopen our Lebanese restaurant Em Sherif in our gardens. These are our projects for next summer.

You've renovated the two prestige suites named Rainier III and Grace. How important is it for you to be part of Monaco's history and to pay tribute to its sovereigns?
Our two suites are about 1,000 square meters between inside and outside. The Princess Grace Suite, inaugurated in 2018, is a duplex on the 7th and 8th floors and faces the sea and port. The Rainier III Suite was completed in late 2018-early 2019 and overlooks Casino Square with the view of France and Italy.

When we asked ourselves what names to use for these suites, we realized the link between the hotel and the princely family. Many family's events were celebrated at the Hotel de Paris, from Princess Grace's birthdays to wedding anniversaries in the cellar. We thought that these two suites should be in honor of those magical moments that Prince Rainier and Princess Grace had experienced here.

How did you relate the decoration of the hotel to the princely family?
In both suites, there are works of art that come from the palace, and it was the Sovereign who chose them. In the Rainier III suite, there are art works made by the Prince himself, who worked with metal to create animals. There are also things that recall his love of the circus, photos of him with Prince Albert, with the Princess.

In the Princess Grace suite, there are artistic works that the Princess made with flowers and dried leaves. We like to make the client understand that these suites aren't just a name, but also have a soul. Moreover, the princely family still comes here to celebrate birthdays. It has become a tradition.

It's a detail that can only be found in your home.
If you want the client to have an experience, you have to create it with the decoration. The client wants to immerse himself in the local culture. When they arrive in a suite, they should feel like they're moving into someone's home because there are certain books, art objects. 

Everyone has a local culture, and we are working on that. A consultant from the tourism department told us that we weren't using our proximity to Italy enough to differentiate ourselves from Cannes and Nice. We have to find the link, tell our story. If I give you a story, you will tell it in return, and only then each client can become an ambassador.

In your opinion, what are the main challenges and opportunities facing the luxury hotel sector?
The difficulty in recruiting, and I think we have a real mission. Hotels and restaurants are real social elevators. These are professions that offer a lot of opportunities, but are hard and require effort. I think we have to work hard so that young people understand that beyond the hours we put in, there are a lot of fruits to be harvested if we persevere.

For you, what is luxury today?
It's the assurance of an experience. The customer pays a higher price because he knows that no matter what happens, everything will be fine.

What do you think about the evolution of the luxury hotel industry?
The evolution is in technology and digitalization. Systems that can help us recognize the customer, anticipate his desires, it's magic.

After 35 years in the luxury hotel industry, is your passion for this universe still the same?
This job gives you the opportunity to learn. This is important. I love the stories of my clients. There isn't a regular client who comes here that I don't know the story of how they got there and who helped them. Today, I understand that one man's fortune is always made by another man.

What advice would you give to a young person who wants to work in the luxury hotel and restaurant industry?
They have to be hungry, to want to learn. That's what's missing today. You have to be hungry for success.

Is the fact that you must constantly strive for excellence a driving force or a constraint?
It's a driver. Excellence is like a beautiful woman. The moment you are too sure of yourself, that's when it goes wrong. It's a daily conquest!
About the author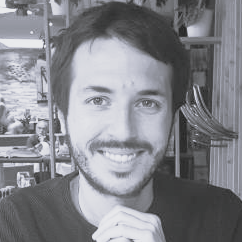 A journalist with many skills and an ever curious traveller, Christopher has a great attraction for carefully refined hotels, where characterful gastronomy, impeccable service and sincere elegance go hand in hand. A discreet and gourmet pen at the service of a certain idea of luxury.