GARNIER-THIEBAUT, TAYLOR-MADE IN THE HEART OF THE VOSGES (France)

Paul de Montclos, President: "Garnier-Thiebaut's move into luxury hotel business was made possible by our ability to work on small series. We've accompanied the rise of customization and we've exported".

GARNIER-THIEBAUT, TAYLOR-MADE IN THE HEART OF THE VOSGES (France)

Paul de Montclos, President: "Garnier-Thiebaut's move into luxury hotel business was made possible by our ability to work on small series. We've accompanied the rise of customization and we've exported".

Category: Europe - France - Suppliers - Providers
Article written by Christopher Buet on 2023-04-28

The winter chill is still being felt on the shores of Gérardmer's Lake, despite the sun. There, in the heart of the Vosges, a textile land by excellence, Garnier-Thiebaut has built its reputation. At the initiative of the Association des Gouvernantes Générales de l'Hôtellerie (AGGH), the company opened its factories doors to reveal its activities and share some of its secrets, in addition to a history that goes back to the beginnings of the industrial revolution.

A Vosges tale


In 1833, Jean-Baptiste Garnier and his wife Valérie Thiebaut decided, one year after their marriage, to found their company, which would be the association of their two names. "It's an old lady", Paul de Montclos, the current president, likes to remind us with benevolence, as he welcomes us in the factory rebuilt after the Second World War. At the time, Garnier-Thiebaut was only a fabric reseller at local fairs, the last link in a chain supplied by Vosges farmers. Little by little, the company becomes structured and opens a factory in the valley. The farmers joined the company, bringing their know-how, which has been maintained ever since, and participated in its development, as did the friendships of the couple, who were particularly close to Napoleon III.

The XXth century will mark a rupture and a deep change. Because of its position, the historic factory was razed in 1944 by the routed German army. It took five years to rebuild everything. In 1969, after a failure in plastics, the descendants of the founding couple were forced to sell. The company passed into the hands of André Gelfi. This Bernard Tapie's close friend didn't linger and sold in 1985 to the Montclos, the oldest French family in textile industry at the head of Denantes weaving mills, whose roots go back to 1620 and the Voiron canvas. In July 1995, Paul de Montclos was asked to prepare the company for its sale. He never left.

The 11th generation from Dauphiné in textile industry took up the challenge and put Garnier-Thiebaut back on track by refocusing on its know-how with a clear positioning. There is no question of doing like the others and producing in large quantities. The emphasis is on quality: small series for the luxury market and colorful collections for the general public. For the latter, he hires two stylists from Hermès and Rochas, produces two collections per year and releases 40 to 50 new models per season. Without being a spinner, the company follows the life of the yarn, prepares it, dyes it, weaves it, finishes it and distributes it through its sales representatives in hotels or its boutiques (about twenty of the group's own and a dozen partners).

Miraculous water and a label


To meet this requirement, the factories are running at full speed, with iron weavers pulling carefully stored, multicolored 3.5 kg bobbins containing up to 87.5 km of thread for 50/2 thread and almost 210 km for 120/2 (very fine thread). However, the impressive warping machines and other looms, which hum all day long, are not left to their own devices, but are handled by the 220 employees of the company, who are involved in everything from weaving to finishing, from clothing to logistics. Indeed, the buzzing confection is hybrid here, both automatic and manual for prototypes, samples and emergencies.

These teams have a great deal of autonomy, in order to give free expression to their know-how. The same goes for finishing, which is done in a factory created exclusively for Garnier-Thiebaut, not far from the first one. "It's the chemistry of textiles", describes the president of Dauphine origin. The cotton is mercerized in a soda bath, shrinking, bleaching and obtaining a smoother, shinier and puffier appearance. A historical process. If textile factories have developed here, it is linked to the water of the region. In addition to its motive power, it has a natural acidity. Historically, farmers soaked the cloths once they were woven and left them to dry in the sun. The action of the UV rays did the rest to bleach the pieces.

To this generous nature, Garnier-Thiebaut has developed the peasant know-how and now brings together 72 different looms. A treasure for which Paul de Montclos has a high regard and makes it a point of honor to promote. Thus, in 2005, he participated in the foundation of the label Entreprises de Patrimoine Vivant (EPV), valorizing companies with rare know-how such as the mastery of the damask industry, a prestigious fabric, for Garnier-Thibaut. In a similar vein, the "Vosges Terre Textile" distinction was also created. "The idea was to promote the local textile industry, by authenticating the products", he says of this initiative, which was thought of as an industrial AOC. To obtain it, at least 75% of the operations on the product must be done in the region.

A know-how in danger?


A unique and precious know-how, but not immutable. "There is a risk of losing know-how, since there is no longer a school. So the only way to perpetuate the activity is through tutoring, by asking an old hand to train a young one. They were very professional, but one day they came to me and said, "Paul, young people don't stay." There is a relationship to work that has evolved", says Paul de Montclos.

Garnier-Thiebaut tried to set up a production school, in which it would train young people who had dropped out of school. But the project failed because of a lack of support from the public authorities. Today, "we are starting to train again. We are using all possible tools for integration", explains the president, who does not hide the fact that he must also take into account the geographical situation, far from urban centers. For example, one employee recently resigned because the commute was too restrictive.

The manager remains hopeful and continues to innovate in order to attract people, with his means. "About ten years ago, we said to ourselves that we were heading straight for the wall. We had to make our companies sexy. We have colleges and students visit the plants a lot, so they can see that the textile plant of today is not the one they have in mind. We also have to explain that we can enter the textile industry with little baggage but end up very far away. It's a real social elevator", he assures, relying on the story of 28 years of small and large industrial and especially human successes.

Luxury as an outlet


Although recruitment is complex, Garnier-Thiebaut can pride itself on its overall good health, having taken the right turns. As much by choice as by constraint. Unable to compete in the race for ever-lower prices, the company has refocused on small series, making high-end and made-to-measure products its trademark. "Garnier-Thiebaut has turned to the luxury hotel industry thanks to our ability to work on small series. We have accompanied the rise of customization and have exported our products", tells Paul de Montclos, who is proud to have initiated this change in 1995.

Developing its own production and maintenance chain, the company has become a partner for establishments that want more than just table or bed linens, but products with their logo. Products embroidered with their initials, pillowcases woven so that the ruffles remain straight. Every detail is thought out according to the wishes of customers who are delighted with this degree of precision. "With Garnier-Thiebaut products, we stand out. Coming to visit the factories is an asset. We have learned and when we return to our hotels, we can talk about what we have seen", explains one of the participants. For restaurants, it is possible to have a notch on the napkin for the shirt buttonhole: "It seems trivial but it is not and it allows us to make a connection with the customer."

Thanks to its ability to adapt and short lead times (three to six weeks for a hand-to-hand delivery), Garnier-Thiebaut has secured some great collaborations and solid outlets, both in France and abroad, where the company is present in 85 countries. In the United States, for example, it generates nearly half of its sales, or 30 millions euros. "We started from scratch in this territory. We started in 1996 and in 2010 we were doing two million euros. In 2010, we did an external growth and there we went from 2 to 30. It was stressful because it mobilized a lot of resources with a lot of uncertainties" appreciates the Dauphin-based executive.

"We create links".


Although he knows that he will have to continue to develop internationally to keep up with what he calls "the regionalization of the world", he does not intend to abandon the Vosges and its unique natural basin. Better still, it intends to continue investing there. The turbine that produces 12% of the company's energy is going to be upgraded so that its contribution reaches 18 to 20%. This is a way to show his confidence and to fight against the ever-increasing energy and economic constraints.

Above all, Paul de Montclos will not stop counting on his main asset, the men and women who have made, are making and will always make Garnier-Thiebaut. Within the company but also outside. An essential human link, renewed during this visit of the AGGH: "If we want to progress, it is important to exchange and to know each other. We create links, we are not only in a mercantile relationship. We don't sell anything to the rulers, but they have the power to say that this product is not up to scratch and that they no longer want it. We are there to find solutions," he says.

More than a company, Garnier-Thiebaut is the guarantor of an almost two hundred year old know-how and a certain idea of luxury. A luxury that is demanding, precise, methodical, but above all human. The thread is not about to break.
About the author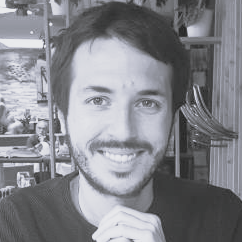 A journalist with many skills and an ever curious traveller, Christopher has a great attraction for carefully refined hotels, where characterful gastronomy, impeccable service and sincere elegance go hand in hand. A discreet and gourmet pen at the service of a certain idea of luxury.