INTERVIEW - FANNY LAUDE, SVP TALENT & DIGITIZATION, ACCOR: "ACCOR HAS SUCCEEDED IN GROWING YOUNG TALENT, SUPPORTING INNOVATIVE IDEAS THAT GO OFF THE BEATEN TRACK" (France)

"We are confident that the new generation of digital geniuses will revolutionize the entire industry and lead it to previously unexplored horizons."

INTERVIEW - FANNY LAUDE, SVP TALENT & DIGITIZATION, ACCOR: "ACCOR HAS SUCCEEDED IN GROWING YOUNG TALENT, SUPPORTING INNOVATIVE IDEAS THAT GO OFF THE BEATEN TRACK" (France)

"We are confident that the new generation of digital geniuses will revolutionize the entire industry and lead it to previously unexplored horizons."

Category: Europe - France - Careers - Recruitment / Job / Training - Interviews
Interview made by Christopher Buet on 2023-05-03



Every year since 2012, Accor and its teams have invited students from around the world to participate in the Take Off! Challenge.
Photo credit © Accor

Identifying and convincing young talents is a challenge for all companies. To do so, they compete with ingenuity to stand out, multiplying initiatives and promises.

As a global hospitality giant, Accor has some assets to seduce new entrants to the job market. However, the French group doesnít only count on its reputation. To strengthen its appeal, it has undertaken to speak directly to its public and to the younger generations. Better yet, it is involving them.
In 2012, Accor developed the Take Off! Challenge, a global competition in partnership with universities, business schools and hotel schools. This challenge consists of inviting students around the world to develop a case study, around a real situation related to the group's activities, to present their projects, and to be coached and evaluated by the Accor management team and experts. This competition also offers job opportunities within the group.

A fun way to discover the talents of tomorrow and to familiarize them with the group. For the Journal des Palaces, Fanny Laude, SVP Talent & Digitization at Accor, took the time to talk about this participative and competitive project.

Journal des Palaces: Why did you decide to challenge students on innovation and digital?

Fanny Laude: This year, Accor invites students to think about how to reinvent customer experiences by integrating more digital and innovation. As a pioneer in digital transformation and the player in the industry to have a dedicated Digital Factory, Accor is constantly improving the digital experience for customers by offering them an ever more fluid and personalized service. Digital talent is at the heart of Accor's innovation; we are confident that the new generation of digital geniuses will revolutionize the entire industry and take it to new horizons.

What do you expect from this event and the students who will participate?

The competition is based on real-life situations in the professional world, allowing students to put their knowledge into practice and develop different skills: market sense, negotiation, project management, speaking...

Accor and its employees are present throughout the whole process to discuss with the students, present the group's activities, share their experience, coach them, evaluate them and even offer them a job opportunity.

This year, we expect about 500 participants, including 33 second-round participants who will benefit from an HR interview and 15 finalists who will be recruited for internships, apprenticeships, or first jobs.

Why is it important to engage young talent?

As the world's leading hospitality company operating in 110 countries, Accor welcomes nearly 80,000 employees every year and 49% of our employees are under 35 years old.

Attracting young and emerging talents is the group's priority and we hope they will bring new visions to reinvent the industry. The Take Off! Challenge allows us to begin a dialogue with the younger generation, build trust, identify talent that is interested in our business, as well as raise awareness of Accor among these audiences around the world.

What can the young people who participate in the Take Off! Challenge?

As skills development is at the heart of the group's talent culture, the participating students will benefit from exchanges and coaching with Accor managers and from their expertise. It is also a good opportunity to develop its own network, challenge oneself and exchange with others.
Some will eventually be offered internships, apprenticeships or first international opportunities at Accor, which will enable them to launch their career with a major player in the global hospitality industry.

After 10 years, what is your assessment of this challenge, in which 6,000 students have already participated?

For more than a decade, Accor has succeeded in helping young talent grow, supporting innovative ideas that are off the beaten track, and providing them with all the tools they need to make their projects a reality.

As an example, the winners of the 2021 edition were able to develop, with the help of an association and the ESG teams, their idea to take back bath towels and sheets from our hotels in order to create sanitary towels for women in need in India.
Our ambition is to help the younger generation take its first steps in the world of work and to convince more young talents to enter the hotel industry.

Do you stay in touch with these students?

Our teams keep in touch with the participants and have offered the winning students a dream vacation following the finals. Last year, the three winners went on a three-day trip to Paris, where they visited Accor headquarters and hotels, chatted with the teams, and relaxed on a bateau-mouche. Two students selected from the finalist teams were offered a memorable experience at the Living Adventure during the World Cup in Qatar.

Among all the projects you have seen over the decade, which ones have particularly impressed you?

Every year, Accor challenges students around the world on a theme related to the group's strategy, or a current industry topic, such as loyalty programs, catering, the lifestyle brand, CSR or the talent shortage...

Last year, for example, the winners proposed a recruitment forum in the Metaverse, gamifying every step of the recruitment process, from brand understanding to profile validation.

Have any of the participants had an interesting career within the Accor group? Do you have any examples to share with us?

Harry Greig, a candidate from New Zealand, and his team were finalists in the 2014 Take Off! Challenge in 2014, and was one of the lucky candidates invited to Paris by Accor to present his project to the group's top executives.

A few years later, Harry started his career at Accor in Cambodia as a regional marketing manager. Today, he is the Director of Communications for the South East Asia region, based in Bangkok, Thailand.

As Harry himself testifies, "It is a great joy for me to see the continued success of the Challenge. Having been a finalist myself in 2014, I consider this challenge one of the fondest memories of my university years. It is essential to engage young talent in the search for new ideas and innovative solutions. This is an industry that continues to evolve at a rapid pace and I hope the Take Off! Challenge will inspire more students to pursue a career in the hospitality industry."

Are there other similar events and competitions planned or under consideration for the future?

In addition to the competition, we hold an annual competition focused on the design of our hotels and various brands. For example, last year we asked students to create spaces to bring a more local population into our properties. We received a lot of great ideas, from dedicated spaces for children, to local markets, to even organizing festivals.

Starting in 2024, we will capitalize on the Take Off! Challenge, and develop a new program offering a more complete experience for participants. We also want to attract high school students, for example, with a challenge dedicated to operational issues. This program will provide them with different assets such as coaching, mentoring or even access to e-learning modules. All this while continuing to enhance the value of these profiles, develop their employability and ensure their first step within Accor.
About the author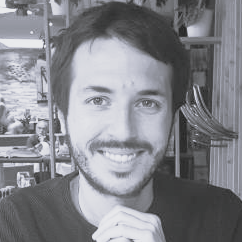 A journalist with many skills and an ever curious traveller, Christopher has a great attraction for carefully refined hotels, where characterful gastronomy, impeccable service and sincere elegance go hand in hand. A discreet and gourmet pen at the service of a certain idea of luxury.