INTERVIEW - GERD VON PODEWILS, CHIEF MARKETING OFFICER, ADA COSMETICS INTERNATIONAL: "WE AT ADA NOT ONLY WANT TO LEAD IN CSR BUT ALSO GUARANTEE GUESTS' HEALTH AND SAFETY"

"We are proud and humbled to be among the top 3 global hotel amenities manufacturers. Our company's purpose is "Putting beauty into travel" to create unforgettable beauty moments for hotels' guests."

INTERVIEW - GERD VON PODEWILS, CHIEF MARKETING OFFICER, ADA COSMETICS INTERNATIONAL: "WE AT ADA NOT ONLY WANT TO LEAD IN CSR BUT ALSO GUARANTEE GUESTS' HEALTH AND SAFETY"

"We are proud and humbled to be among the top 3 global hotel amenities manufacturers. Our company's purpose is "Putting beauty into travel" to create unforgettable beauty moments for hotels' guests."

Category: Worldwide - Suppliers - Providers - Interviews
Interview made by Christopher Buet on 2023-05-11

It is a simple plastic bottle placed in a bathroom. A harmless bottle, you might think, but it contains more than a lotion to clean your hands or face. It is a messenger carrying a promise and a commitment. For ADA Cosmetics, beauty has to mean something.

For more than 40 years, the German giant has been one of the preferred partners of hoteliers around the world, offering its products in many establishments.

Inventor, in the early 1990s, of the first dosing system now installed in all bathrooms, ADA Cosmetics owes its success to its ethics and its constantly renewed will to manufacture and distribute the most virtuous cosmetics possible, from their conception to their use.

Concerned about the well-being of its customers and the ecology, the Kehl-based firm can boast of being the first to offer its partners a range of products fully certified Cradle to Cradle, a standard recognized to distinguish safe and responsible products, part of a circular economy.

For the Journal des Palaces, Gerd von Podewils, Chief Marketing Officer, who joined the company just before the Covid-19 pandemic, with his 30-year background in the luxury industry, took the time to explain the singular approach of ADA Cosmetics, its idea of responsible luxury driven by innovation and the relationship it has with the luxury hotel industry, for which it aims to be the first partner in cosmetics.

Journal des Palaces : What is your background?

Gerd von Podewils: I have been creating, building, and marketing beauty and lifestyle brands for almost thirty years. I started with P&G Prestige and had the opportunity to work with acclaimed fashion designers like Hervé Léger and Helmut Lang on their namesake perfume projects. Later, I took over the responsibility of developing and marketing global fragrance powerhouses like Gucci and Hugo Boss.

The latter company asked me to join and coordinate the worldwide marketing and communication activities for fashion and licensing. These were super exciting times as we turned Hugo Boss into an omnichannel company, serving our clients online and offline. Before Covid-19, I joined ADA Cosmetics, one of the top global hotel amenities manufacturers. It is a real jewel, and we have ambitious plans to expand and build the company in many ways.

What is your vision of luxury?

For me, luxury is about spending and enjoying time with my beloved ones and close friends. Simple things are the ones that matter the most – a walk together in the countryside, a good conversation over a glass of wine while enjoying a sunset, or listening to the cracking wood in the open fireplace.

In my professional life, I travel a lot to meet with ADA customers worldwide. As a guest, I enjoy those places that make me feel at home, especially when I feel the attention of the hotel personnel and their attitude of being "their" guests – that is luxury.

How many employees does the company have?

At ADA, we employ over 600 people from more than 30 nations. We attract many international talents to our headquarters in Kehl, which is only a stone's throw away from Strasbourg. We are a truly global company because we run our laboratories and manufacturing operations in Europe and Asia and have affiliates in more than 16 countries.

What do you draw inspiration from to create?

We are permanently in touch with the external world. On the one hand, we get inspired by the wishes of our customers and their guests, on the other hand, we work closely with renowned perfume houses like Givaudan or Symrise that share the latest trends with us.

Lastly, we enjoy the exchange with our luxury partners from the world of perfume, fashion, jewellery, or lifestyle: Amouage, Balmain, Asprey, Chopard, Lalique, and Elemis, to name a few.

How did you manage to build trust with hoteliers around the world? How do you explain that it has lasted so long?

We, at ADA, look back at more than 40 years of presence in the hotel amenities market. Putting our customers and their guests at the centre of everything we do, and providing excellent customer service 24/7 has built a strong connection and makes ADA a trusted, reliable partner.

In addition, our constant innovation around brands and products and our commitment to offering more sustainable choices is the foundation for remaining one of the most substantial companies in the hotel amenities business.

Which prestigious institutions do you collaborate with?

We work with global Groups like Grand Hyatt, Jumeirah, Mövenpick and Cruise lines like Carnival and MSC. At the same time, we have been servicing independent hotels for more than 40 years.

They have been loyal to ADA due to our ability to serve their needs from A to Z, including developing personalized and bespoke ranges exclusively for them.

What are the requirements of the luxury hotels you work with?

Guaranteeing a global service is a prerequisite for international groups. No matter where, ADA can deliver through its global manufacturing and logistics footprint.

Another expectation is to provide customized solutions. From personalizing luxury brands like Balmain for Grand Hyatt to developing bespoke products like the chocolate-inspired line for the Hotel Sacher in Vienna – due to our laboratories and decade-long beauty care experience, ADA is perfectly equipped to serve customers' expectations.

Do you work together on customized products? Do you have any examples to give to us?

We offer different levels of customization, from personalizing the products with a customer's name to using different packaging and formulations to create a new composition to developing completely bespoke projects.

For example, one of our customers grows his vine around the hotel, so we developed a scent with the grapes from his vineyard.

Another customer wished to match the colour and shape of the bath and body care dispensers with the hotel's corporate identity. We had to build a new mould for the packaging and several rounds of colour matching, but the result was spectacular.

Wellness is an essential aspect of the customer experience in luxury. To what extent are you involved in building a treatment/spa pathway with hoteliers and where your products would be used?

Aside from our vast internal beauty and skincare expertise in developing SPA products, we have been partnering thus far with SPA experts like ELEMIS London. Based on their SPA ranges, ADA developed the corresponding bath & body care products for the rooms. As a result, hotel guests get the whole brand experience across all beauty & SPA touchpoints across the hotel.

How do you manage to constantly renew yourself?

Innovation is in our DNA and one of our points of difference in the amenities market. ADA invented branded, customized hotel amenities back in 1979, launched the first hygienic dispenser system in 1990 to reduce the plastic waste generated by small portions, and introduced a "green" collection in 2009 when sustainability wasn't on everybody's mind.

This year, we upgraded the world's most hygienic SmartCare dispenser system with a safe lock seal to better protect our patented membrane technology. And at the end of this year, we will launch another ground-breaking innovation around dispenser systems.

Which collaboration was your greatest challenge? Why?

We like challenges. As we have our laboratories and manufacturing expertise in Europe and Asia, "nothing is impossible." The latest challenge we mastered was the Amouage project. Amouage is known as "The gift of Kings." Its products blend inspirations from the Orient and Occident. The bespoke packaging reflecting the Amouage heritage and aesthetics is unparalleled.

The formulation includes the mythical Omani Frankincense. ADA and Amouage together created a new icon in the world of hotel amenities. It is expensive once, after that, it is priceless.

What is the company's CSR policy?

ADA has been at the forefront of sustainability for more than 40 years. It is a company-wide priority in everything we do. Our founder developed the iconic press+wash system in 1990 to reduce the plastic and liquid waste generated by small portions. Since then, we have been developing many more CSR projects – from EU-Ecocert and Nordic Swan certified ranges to cooperate with the FaireTrade organization for our FairCosmEthics brand.

As a result, we are the first hotel amenities manufacturer worldwide with a Cradle-to-Cradle certification for all our product lines. We will voluntarily release a full sustainability report for 2021/22 in the following weeks to underpin our commitment to CSR.

You have emphasized the need to offer sustainable and eco-friendly products. How does this conduct the choice of components?

ADA's commitment to CSR cascades to all functions and projects. Our procurement team sources only FSC-certified paper & carton packaging. Our design and packaging teams develop projects by embracing the circular economy principles from the beginning. That is why most ADA dispenser systems have been changed to 100% recycled plastic.

If recycled material is unavailable, we strive to use mono-material for all components to support a perfect recycling process. Our formulations are vegan and completely free from nasties and harmful ingredients – our internal benchmark for natural ingredients is much higher than those of other companies and what is legally required in many countries. We, at ADA, not only want to lead in CSR, but also guarantee guests' health and safety.

What are your next development projects?

Since innovation is our lifeblood, we continuously add new projects to our pipeline. New brands, upgraded formulations, or innovative dispenser systems; we will surprise hotels and their guest with great news in the following months and years. Our latest technology is the SmartCare+ dispenser with a patented membrane and a new safe lock seal.

The latest product launch is TAR, which stands for "Think-Act-Live responsible." It is our lighthouse for sustainability. The formulation is 100% based on natural ingredients and certified by COSMOS, Nordic Swan, and Cradle-to-Cradle standards, and the pump dispenser is made from 100% PCR PET.

The subsequent brand launches will be SoapSmith, a new thrilling brand created by Sam Jameson, who captures the scents from London borrows, and Chopard, the renowned watch and jewellery brand for which we created a diamond-shape inspired dispenser.

Ada Cosmetics aims to become the leading cosmetics partner for hotels internationally. How far along are you with this goal?

We are proud and humbled to be among the top 3 global hotel amenities manufacturers. Our company's purpose is "Putting beauty into travel" to create unforgettable beauty moments for hotels' guests.

If we continue to deliver these moments, our existing customers will remain loyal and new ones will award us with their business. As a preferred partner for hotels worldwide, we will consequently stay in a leadership position.
About the author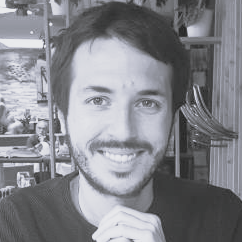 A journalist with many skills and an ever curious traveller, Christopher has a great attraction for carefully refined hotels, where characterful gastronomy, impeccable service and sincere elegance go hand in hand. A discreet and gourmet pen at the service of a certain idea of luxury.