INTERVIEW - JEAN-PHILIPPE KERN, GROUP OPERATIONS DIRECTOR, BEAUMIER: "LET'S BE OPEN-MINDED AND INTEGRATE PASSIONATE, WILLING PEOPLE INTO OUR TEAMS, RATHER THAN RELYING SOLELY ON KNOW-HOW THAT CAN BE LEARNED" (France)

"We need to move towards greater personalization, as we do for our customers. We help our teams to pass on their knowledge, and we believe that tomorrow's talents are those that we train today."

INTERVIEW - JEAN-PHILIPPE KERN, GROUP OPERATIONS DIRECTOR, BEAUMIER: "LET'S BE OPEN-MINDED AND INTEGRATE PASSIONATE, WILLING PEOPLE INTO OUR TEAMS, RATHER THAN RELYING SOLELY ON KNOW-HOW THAT CAN BE LEARNED" (France)

"We need to move towards greater personalization, as we do for our customers. We help our teams to pass on their knowledge, and we believe that tomorrow's talents are those that we train today."

Category: Europe - France - Careers - Recruitment / Job / Training - Interviews
Interview made by Christopher Buet on 2023-06-07



In 2022, Jean-Philippe Kern joined Beaumier as Director of Operations, with the aim of developing the image of authentic tourism.
Photo credit © Jean-Philippe Kern

One foot in the warm, delicate waters of the Mediterranean, the other in the fresh snow on the slopes of the Alps. Beaumier, formerly Les Hôtels d'en Haut, has left its refuge in the Alpine heights to open up to a wider economy. From one hotel in 2011, the group now has eleven, including eight in France. Hotels with a unique character, rooted in tradition, design and respect for their respective territories.

Beaumier intends to build on this success. A number of projects are planned across Europe, to strengthen its presence in a highly competitive market. Although the group did not wish to say more on this subject, it is moving forward serenely, with a clear identity and aware of the challenges ahead.

One of the main challenges is structuring its teams. As a seasonal employer, Beaumier is looking for continuity to establish its identity and its vision of hospitality. This means adopting a smart, attractive recruitment policy to retain its best staff, who are the guardians of the company's values, and to attract new talent.

Jean-Philippe Kern, who started out as a chef and went on to become a manager at Novotel and then Sofitel, knows the world of hotels inside out and is helping to consolidate the Beaumier model, which he joined in 2022 as Group Operations Director. He spoke enthusiastically to Journal des Palaces about the Beaumier's recruitment and staff management policy at a time he sees as full of opportunities.

Journal des Palaces: How is the Beaumier group structured and how many employees does it have?

Jean-Philippe Kern: Beaumier has 11 hotels (L'Alpaga in Megève, Les 3 Vallées in Courchevel, Le Val Thorens and the Fitz Roy in Val Thorens, Capelongue in Bonnieux, Le Moulin and Le Galinier in Lourmarin, Les Roches Rouges in Saint-Raphaël, Petunia in Ibiza as well as Le Silberhorn and the future Grand Hôtel Belvédère in Wengen, Switzerland) and a central support function. In France, this represents between 250 and 320 employees, 25-30% of whom are on permanent contracts, with around twenty per cent on fixed-term contracts renewed each year.

Les Hôtels d'en Haut was acquired in 2019 by the American investment company KSL Capital Partners, and became Beaumier in 2021. What is the current status of the group's expansion plan?

The Beaumier Group has known significant expansion, with our portfolio growing up from five hotels to 11 properties in just three years. This growth has enabled the group to continue to expand in France, in Provence, as well as abroad, with properties in Switzerland and Spain.

The Hotel Petunia (Ibiza) recently opened under the Beaumier banner, and next season we'll be re-opening the Grand Hotel Belvédère in Wengen (Swiss Alps) after a major refurbishment program.

Are there any other hotel openings planned, and if so, which ones?

A number of projects are in the pipeline, but at present we do not wish to release any further details about them.

Beaumier is still growing strongly, both in the countries where it is already established, like France, Switzerland or Spain, and in other destinations such as Italy and Portugal. Our guiding principle remains to offer properties in exceptional natural environments, in both winter destinations (ski resorts) and summer destinations (coastline, beaches, countryside and lakes).

Beaumier recently took out a €200 million loan. Why?

As Beaumier CFO Oriane Emsalem recently said, this partnership with Cheyne Capital is part of the group's growth strategy, with the acquisition of new destinations in the future, and will enable us to concentrate on repositioning our hotels in Wengen and the Luberon.

How do you analyse the current employment situation?

Our hotel and restaurant sector is currently facing severe recruitment pressures, but this seems to have improved since the last winter season. We are constantly in the process of enhancing our attractiveness, finding new ways to seduce candidates, and being an employer of choice.

Which ways are you exploring?

We're working on the internet referencing of our ads. This has forced us to create content and communicate on our values. We've also worked on our pay scale to ensure that we offer a competitive remuneration package. We have to stop seeing our profession as a half empty glass. There are plenty of difficult jobs in the construction or health sectors with major constraints, and when you take a step back, it's pleasant to work in the hotel industry. You also have to emphasise the opportunity to progress. I started out as a cook, and I never thought I'd be running the operations of a group like Beaumier. What other sector can offer you such a scope for advancement?

What recruitment policy have you elaborate?

To attract the best talent, we're building our employer brand. This has already been done internally, with the aim of developing a team spirit and a spirit of collaboration that all our employees can embrace. We have worked to enable them to strengthen their skills and offer them significant career development opportunities through appropriate training and a training-integration program. In this way, we build loyalty among our employees and ensure their long-term commitment and involvement.

We have also ensured that the Beaumier experience is complete and well integrated by everyone so that it can be passed on to newcomers. In addition, we designed a connected recruitment platform.

We have several objectives: to increase unsolicited and natural applications, to participate in and receive solicitations for external partnerships (schools, universities, associations, etc.). In doing so, we intend to optimize the quality of our services and work on the details to achieve excellence and provide customers with a unique experience compatible with the prerequisites of a high-quality standard. In the end, this will improve the Group's financial results.

Which profiles are the most difficult to recruit? Why is this?

Front of house and kitchen staff, mainly Chef de rang and Chef de partie. Training, pay, working conditions and working hours are all factors that have made recruitment more difficult over the years. As we all know, the hotel and catering industry has a reputation for hard work, with seasonal schedules, long working days with frequent breaks, evening shifts, weekends and public holidays. The fluctuating activity of these properties sometimes makes it difficult to forecast activity and requires a certain flexibility in work organization.

What opportunities does the sector's particular situation offer you in terms of recruitment?

The current situation forces us to be constantly looking for innovation, to do things differently and better than before to attract new generations, to seduce and retain today's talent by demonstrating that we are up-to-date and that we are progressing in line with new expectations such as hybridisation.

What exactly do you mean by hybridisation?

At Les Roches Rouges in Saint-Raphaël, we have employees who work during the summer season and the rest of the time, they take their leave and go to help other hotels. We're trying to be creative, to offer a few permanent contracts in each hotel to prepare for the season and recruitment, to create an identity... Covid has helped us in this rethink. You have to think in terms of year rather the day-to-day. Before telling someone that we don't have any solutions for them, we need to ask ourselves what we can offer them.

It's harder to find profiles that can combine winter and summer seasons over the long term. We're in a job market where we have to make an effort. This summer, we've had fewer recruitment problems, and that's perhaps because we've questioned ourselves and adapted. Strategies change depending on the market.

In your opinion, to what extent recruitment in the luxury hotel and gourmet cateringsector can be modernised?

We need to move towards greater personalization, as we do for our customers. We help our teams to pass on their knowledge, and we believe that tomorrow's talents are those that we train today. Let's be open-minded in certain functions so that we can integrate passionate, willing people into our teams, rather than relying solely on know-how that can be learned.

Can't this choice be dangerous in the medium and long term?

With the recent difficulties in recruitment, we have lowered our expectations in terms of know-how and given priority to interpersonal skills. This is dangerous, in the long term because we need know-how, and even more in France, to preserve our gastronomic and hospitality identity. Tourists come to France because we know how to cook, bake and run a hotel. The profession needs to successfully meet the challenges of the employment situation, while protecting our French uniqueness.

Since the pandemic, many employees have left the industry, and it has become difficult to train teams. How do you go about retaining your employees?

We set up induction training programs, and with our dual seasonality, we're able to offer employees a summer season and another in the mountains in France or abroad. What's more, accommodation is paid for by the employer, which limits costs and the impact of inflation.

What other changes to your recruitment policy and quality of life at work have you introduced?

We often talk about customer segmentation, and we need to do this with our employees to understand their priorities. Like our customers, our employees come from different places/cultures with different expectations. Some come for short term, others for medium or long term, others for money or for a career... What they all have in common is that they come to us because of our values and our modern vision of responsible hospitality. We're constantly looking for partners to offer preferential benefits to our employees (access to sports halls, preferential rates within our properties, a Hello CSE platform, co-optation bonuses).

We also review our salary scales annually and introduce incentives. This is a 'collective incentive' for all the hotel's teams, based on three principles: profit-sharing on turnover achieved in a hotel other than accommodation and on which employees can have an impact, quality results through 'Trust You', an artificial intelligence platform that aggregates customer feedback to give an overall score, and lastly on the attitude and behaviour of the employee (assessed by the manager of each hotel, editor's note).

How do you integrate new employees into the group?

There are two components: onboarding and brand immersion. We set aside the time needed to integrate a new employee during the season, giving him or her the opportunity to get to know the work environment, tools, and Beaumier's approach of hospitality. It's essential for our teams to get to know each other and share ideas. We also give newcomers the opportunity to stay in other Group hotels.

How do you organize training for your employees? How are skills being developed?

In the medium term, our plan is to offer a complete catalogue of training courses in business lines, corporate culture, etc., and to give employees a greater say in their own careers. Supporting our employees through training to meet the brand's ambitions in terms of customer experience, passing on our values, and enabling everyone to develop and build their skills.

You want to launch an application dedicated to HR issues. What exactly will its purpose be, and how will it work?

We're looking for human resources tools that can bring together all the HR elements that employees may need. We'd like everyone to be able to discover our world and get training as soon as they sign their employment contract. Furthermore, we'd like it to be up and running by this winter. It would be an extension of HR, accessible at any time and where employees could give us feedback either publicly or anonymously.

We're very good at improving the customer experience in the hotel and restaurant industry, but we also need to improve the employee experience. There has to be consistency between the two, and the fewer gaps there are, the better it will be.

How important is internal mobility within the Beaumier group?

It's essential. It's a collective and permanent task to ensure the mobility of our employees within our various destinations.

Why do you ask for?

On the one hand, we have most of fixed-term contracts and, on the other hand, we want a strong brand that requires foundations in each of our hotels that can improve the customer and employee experience. As we have both summer and winter hotels, it's obvious that we want to encourage the 'transhumance' of teams who are familiar with our values.

We need to work on this mobility between hotels, identify which employees are ready to follow us from the sea to the snow and vice versa, support them and reward them. This requires special HR monitoring, group cohesion and a detailed understanding of everyone's expectations to retain staff more efficiently.

Management is sometimes blamed for employee departures. What advice do you have for managers? And what do you provide to help them carry out their tasks?

We give priority to training our leaders so that they themselves can best support the professional development of their team. We also provide individual and group coaching to support our managers in their management and day-to-day issues.

What are the values that you and Beaumier aim to pass on?

The first is commitment. More than a job, working at Beaumier is a life choice. The second important value for us is trust. It's the key to progress, to find solutions and to grow together. At Beaumier, we believe in giving everyone a chance, and even a second chance.

The third is leadership. We don't believe in guru leaders. For us, leaders are guides who inspire people and show them the way forward. They take responsibility for their team's actions, but not the glory for their team's successes. They are doers, listeners, and they thrive on making things happen.

In this connection, we advocate teamwork. Great things in business are never achieved by just one person. Sharing is another value that we defend. Basically, hospitality means welcoming customers with open arms and heart, creating generous and meaningful relationships based on genuine kindness.

Finally, Beaumier claims a methodology in the way we work through a set of simple rules, balancing practical guidance with the freedom to exercise creativity.

Do you attract people because of your values?

When you look at our project at Capelongue (in its second phase of renovation), we've thought of everything locally, right down to the construction, using terracotta tiles from the Luberon. Our aim is to reconnect nature and people through authentic, local hotels. It's a differentiating proposition, which is why some people apply to us more than anywhere else. We want to be recognized as a responsible, common-sense hotelier, advocating responsible, rural and gentle tourism.

What advice would you give to a young person thinking of launching their career in luxury hotelsector?

Trust your leaders. The new generations want to move faster. We have to adapt, but not confuse speed with haste. You have to be aware of the pace of your work and your career, be patient and courageous, and start by learning the basics of the business so that you can gain experience and grow in your role before considering running a hotel.
About the author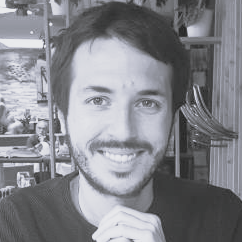 A journalist with many skills and an ever curious traveller, Christopher has a great attraction for carefully refined hotels, where characterful gastronomy, impeccable service and sincere elegance go hand in hand. A discreet and gourmet pen at the service of a certain idea of luxury.