STÉPHANE AND FABIEN LAURINO, CO-FOUNDERS, MAISON LAURINO: "WE ARE CONSTANTLY STRIVING FOR EXCELLENCE" (France)

Suppliers to around a hundred hotels in France and abroad, Stéphane Laurino and his brother Fabien have become breakfast favourites, delighting chefs and customers alike with their homemade jams based on a family tradition.

STÉPHANE AND FABIEN LAURINO, CO-FOUNDERS, MAISON LAURINO: "WE ARE CONSTANTLY STRIVING FOR EXCELLENCE" (France)

Suppliers to around a hundred hotels in France and abroad, Stéphane Laurino and his brother Fabien have become breakfast favourites, delighting chefs and customers alike with their homemade jams based on a family tradition.

Category: Europe - France - Suppliers - Providers - Interviews
Interview made by Christopher Buet on 2023-11-02



Since 2014, Stéphane and Fabien Laurino have founded Maison Laurino, formerly Le Mas des Confitures, and supply the most prestigious hotels with their breakfasts.
Photo credit © Guilhem Canal

A small jar of jam contains much more than just a few pieces of fruit which, through the action of sugar (natural and/or added), have formed this new substance that we like to spread on toast in the morning at breakfast or at snack time. It can also contain stories like that of Maison Laurino.

Before they took over the tables of the palaces of France and the rest of the world, Fabien and Stéphane's containers were filled in the family with their grandmother. It was a story of observation and passing on that turned into a professional adventure when the two brothers realised they had a gap to fill on the white tablecloths of the finest tables.

Using a traditional approach, they drew on their grandmother's memories to create their own recipes and offer quality jams to an industry in search of authenticity and flavour, far removed from the saturated flavours of industrial products. They refined their recipes as they gained experience, reducing sugar as much as possible to produce healthier, more natural products, while venturing into savoury flavours.

Keeping an eye on their copper pans, where their delicious preparations are crackling away, the Laurino brothers invited the Journal des Palaces to their table to talk about the origins of this project, which has become a success story supported by starred chefs, their love of working with small-scale producers and the prospects that are opening up beyond the small pots.

Journal des Palaces: How did Maison Laurino come about?

Stéphane and Fabien Laurino: In 2014, Stéphane and I were invited to breakfast in a Parisian luxury hotel, and we were surprised by the industrial quality of the small jars of jam on the table. After talking to the hotel's catering manager, we realised that there was a need and a shortage.
Le Mas des Confitures was born in October 2015, with the aim of being a Maison dedicated exclusively to major hotels, palaces and their chefs. Arnaud Donckele (editor's note: three-star chef at Cheval Blanc Paris) entrusted us with the breakfast at Cheval Blanc in Saint-Tropez in April 2016. Then Arnaud Faye at the Chèvre d'Or in 2017, Jean André Charial at Baumanière and Vincent Maillard at the Byblos in Saint-Tropez. Then the first palace in 2018 with the reopening of the Lutetia, which chose us via its chef Benjamin Brial.

Why did you change your name?

We're constantly striving for excellence for our Michelin-starred chefs, so we've gradually lowered the sugar content of our recipes. And finally, today, we no longer make jams, as our recipes contain too little sugar to belong in this category, so we changed the name of the company from Mas des Confitures to Maison Laurino in January 2022. As our range also includes condiments, a French honey and a spread, it no longer made sense to call ourselves Mas des Confitures.

You say you draw inspiration for your recipes from your grandmother. Why do you follow this tradition and what role has she played in your business?

She was the one who taught us how to make jam. She had a large vegetable garden, which she spent hours in every day, and she very regularly embellished her recipes with flowers and herbs from her garden. Stéphane got into the spirit of the game and enjoyed creating combinations of fruit and herb flavours. Before she left us, she gave Stéphane her only copper pot, so our first recipes were produced in this pot. We still use it when we make small quantities of our signature recipes for "our" chefs.

How do you make your products? Why is it important to follow a traditional, artisanal process for making them?

We've had the same process since we started out: we buy whole fruit, with the aim of achieving a beautiful texture and a product that's close to homemade. There's no question of us using fruit purées that have already been processed. Our low-capacity copper vats enable us to adapt to our customers' requirements, and to work on small, made-to-measure batches. This traditional method allows us to control our production process, to 'feel' what we are making, and also to achieve very short cooking times, which is important to us.

How do you guarantee the quality of your products?

First and foremost, we choose the suppliers we work with, and with whom we have a real relationship of trust. This is the basis for producing a good product. Quality controls are systematic, and we select the varieties that we find most interesting in terms of taste. We then increase the number of in-house production checks, to guarantee our customers the best possible product.

What links do you have with your suppliers, and why do you support sustainable agriculture?

We've had virtually the same suppliers from the start. It's important to know that we can count on them in good times and bad, and the reverse is true. For example, we're proud to work with a cooperative of beekeepers from the Occitan region, which means we can offer pure honey from the region. We are also committed to sponsoring beehives in Béziers. The exchanges between our employees and the beekeepers allow us to (re)discover the products, so we can better understand and appreciate them. These are values that we try to convey for the long-term future of our company, in a world where we no longer really know where things come from or how they are made.

What demands do hotels make of your products?

Maison Laurino works with around a hundred hotels, both in France and abroad, and they all have the same requirements: consistent quality and no breaks. The major challenge we faced at the outset, and still face today, was to convince these major hoteliers that a small, traditional company could keep up with the production volumes required. A palace with 150 rooms orders several thousand jars a month. So that's our strength at Maison Laurino: we can produce very high-quality recipes in small 15 litre pots, but in very large quantities every day, so that we can keep up with the pace and never put our hotel partners in difficulty.

Have they changed over time?

Over time, our expertise has made a name for itself in the world of chefs, who are increasingly looking for signature, unusual and even seasonal recipes. We are the only ones today who can offer them this, in miniseries, with personalised packaging.

How far can you go with personalisation? What is the order threshold for customisation?

Personalisation starts with the recipe, and can continue through to the jar packaging, with labels featuring special graphic designs. We always ask our partners to order a minimum series of a few thousand 30g jars.

How important is it for you to create new recipes? How do you develop them?

Our signature recipes are increasingly popular. They are developed in collaboration with the pastry chefs and/or executive chefs of these major hotels. We think about the ingredients together, and then Stéphane carries out tests with our team and so on until we find the right mix. It's great to be able to tell the story of a hotel, for example with a recipe that evokes the favourite dessert of a Queen who used to stay there, and whose restaurant or lounge is named after her!

Why also offer condiments such as mayonnaise, ketchup or mustard? How does this savoury business change your organisation?

The chefs asked us to do it! Today, only manufacturers are present on this small pot market and the big palaces, their chefs, some of them, are fed up with putting the same industrial brands on their tables that you find in supermarkets. So in 2018 we launched our range of condiments, for which we developed the recipes, by asking certain Michelin-starred chefs, with whom we are close, and with whom there are no filters! They are frank with us, and it's thanks to that that we've been able to move forward and develop recipes with character.

Would you like to continue expanding your range? What avenues of development do you envisage for the coming years?

We work with fruit, so we may continue to expand our range to include fruit-based products. We'd also like to launch our fruit juices.

How far have you got with your plans for new factories? What is your strategy for attracting the American, Asian and Persian Gulf markets?

Construction is behind schedule and should start at the beginning of 2024. We should be able to start indoor production at the end of 2024. As for exports, we're relying on our network of chefs. They move around a lot. One day they may be working in Paris, then two years later in Miami, and the following year taking on a challenge in Dubai. They like to rely on their artisans whenever they can. The same goes for the Food & Beverage managers; we have already initiated partnerships thanks to the catering manager.
About the author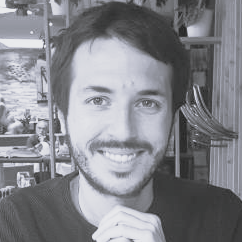 A journalist with many skills and an ever curious traveller, Christopher has a great attraction for carefully refined hotels, where characterful gastronomy, impeccable service and sincere elegance go hand in hand. A discreet and gourmet pen at the service of a certain idea of luxury.