INTERVIEW - JEAN-MICHEL GATHY, ARCHITECT AND FOUNDER OF DENNISTON: "WE LIKE IT TO BE SPECTACULAR, BUT IT HAS TO REMAIN CHARMING, WITH A SOUL" (Malaysia)

"My dream would be to make an ice hotel, in Greenland or in the permanent ice, or to make the first hotel on the moon. Of course, there would be many technical constraints, but that's what would interest me."

INTERVIEW - JEAN-MICHEL GATHY, ARCHITECT AND FOUNDER OF DENNISTON: "WE LIKE IT TO BE SPECTACULAR, BUT IT HAS TO REMAIN CHARMING, WITH A SOUL" (Malaysia)

"My dream would be to make an ice hotel, in Greenland or in the permanent ice, or to make the first hotel on the moon. Of course, there would be many technical constraints, but that's what would interest me."

Category: Asia Pacific - Malaysia - - Interviews
Interview made by Christopher Buet on 2023-05-26

The terrace at the top of the Marina Sand Bay offers a breathtaking view of the city of Singapore. A place made iconic by its location and its infinity pool. A 150-meter-long folly, linking the three towers that make up the hotel, born from the imagination of Jean-Michel Gathy. "I did it on instinct," he testified in 2015 in the columns of Batiactu, for whom he had returned to his wildest projects. If the pool perched at 200 meters above sea level had been greeted by a few laughs as he recalled, it has since become an attraction, as much as a symbol.

In a career spanning forty years, the Belgian architect has drawn, pencil in hand, plans, imagined buildings and hotel complexes. With his unique approach to serving projects and not his purpose, the artist has managed to impose his style, to become one of the most prominent professionals in the luxury hotel industry. A courted and listened architect that nothing predestined to this journey.

Born in Brussels, he is passionate about architecture and studied in Liège before leaving to follow a project in Asia. The young man will never leave, conquered by this teeming continent. Settled in Hong Kong, he began his career as an architect for banks, offices and luxury boutiques, and created his own company, Denniston in 1983.

His hotel adventure began four years later with a project in China. His luck will make him meet Adrian Zecha in 1989. The Indonesian hotelier had just launched his Aman concept and was searching for a man capable of embodying his vision. The Belgian, living in Malaysia and father of four, will be that man. More than a job, he has just found his professional "family" for which he will devote many years participating in the growth of the brand through dozens of projects as luxurious as varied throughout Asia and the world.

For the Journal des Palaces, Jean-Michel Gathy shares his vision of the "luxury hotel industry", shaped by his Eurasian influences, and discusses his relationship with work and art.

How does one go from the architecture of bank branches (168 of which 19 are BNP) and luxury boutiques (Rolex, Ralph Lauren…) to the luxury hotel industry?

When you design a project, what counts is the intellectual process, more than the design itself. When you have a creative mind, what you create doesn't really matter, even if it requires technical knowledge. It's a set of languages: materials, aesthetics, rationality… I didn't go from one universe to another, for me, it's the same intellectual path of creation.

What did you learn from this banking experience, that has accompanied you in the rest of your career?

The particularity of designing banks is to remain rational and fair, it must respond to elements of security, confidentiality, and intimacy. There are codes depending on the sector and the brand. It's like for luxury stores, the brand defines the guests it will receive in its store, and we know their expectations and codes, so we try to serve these codes.

What attracted you to the luxury hotel business?

It's not a decision taken overnight, but a succession of opportunities and circumstances. I grew up in a strict, but sophisticated environment, with a classical education and respectful rules of life, which allowed me to quickly integrate the codes of luxury. Unconsciously, I integrated the reflexes of this clientele.

How would you define luxury hotels?

Luxury is not linked to money, it's a way of life, an intellectual elegance, an attitude. It's not necessarily linked to money, even if it helps!

You have realized countless projects, all unique. How would you define the Jean-Michel Gathy style, your architectural philosophy?

I'll quote someone who has defined me: "it's sometimes dramatic, sometimes intimate, but always charismatic". We like it to be spectacular, but it must remain charming, with a soul. That's why I draw my projects by hand, and my collaborators translate them into a computer.

I like geometry (geometric balance), not necessarily symmetrical because it's a structured language, orthogonal and logical, which balances volumes, spaces, circulation. It's a studied geometry where everything is allowed, it gives a dynamic. It can be a presence played by the light with visual sequences or lighting, openings / closures, the height of the ceilings, how to highlight an object through the light. I like to play with the superimpositions, the spectacular, and the intimate, and it is all that which makes my style.

You have worked for almost 35 years in luxury hospitality, how have hoteliers' expectations evolved?

The luxury hotel industry is a hotel industry that serves and follows the needs of a sophisticated clientele. It evolves along with the technology, the transport, the connection, the environment that it is used to, so the hotel has to be in line with that.  The change is not sudden, it is an evolution, a succession of technologies that are set in motion and that gradually give results.

There are changes every day in the luxury hotel industry, adaptations. Before the TV was on a piece of furniture, then we had bigger TVs hanging on the wall, now it's becoming curved and in 5 years, there won't be any more TVs, it will be a 3D projection… It's never all black and white, it's gradually being integrated.

How has your departure for Asia influenced your creative work and your relationship to hospitality?

For me, this is the most important question! I have a classical, European, traditional education, which is reflected in my classical tastes in architecture: I love the Louvre. The pyramids, for me, it's innate. I arrived in Asia 42 years ago, after 25 years of classical education, my culture is now hybrid, I live with Asian influences.

Unconsciously, I still use my European values, but influenced by Asian values. In Europe, spaces are divided into rooms, whereas in Asia, they are large spaces that are separated by screens, which don't necessarily go up to the ceiling; they can be screens. We act with panels, the space is divided into zones, enhanced by lighting. For example, at the Chedi Andermatt in Switzerland, the stone and wood are typically Swiss elements, but the partitions with panels are Asian.

You once said, "Designing a beautiful hotel is harmonizing a dance between landscape, architecture, and interior." Do you see yourself as a kind of choreographer?

Yes, it's a choreography. A project is the articulation of a hotel product in an environment. We choreograph the topography where the water flows, the access to the hotel, the position of the terraces, the pool, how to bring in the light… This choreographed language must also be integrated today in a sustainable development dimension.

The product must be fair in relation to the environment, the architecture, the landscape… while being dependent on a budget, and a financial line which is, itself, fixed by the developer. One of the reasons for our success is to have understood that a hotel must have an economic, commercial and financial sense in addition to the environmental, architectural or aesthetic sense.

How did you evolve your style to keep up with the times and thus last? How did you renew yourself? What are your sources of inspiration?

We evolve with our clientele and progressively, we integrate for clients supports they need. My greatest source of inspiration is my travels (about 200 days/year) where I discover different hotels and meet this particular clientele. Each of our trips with my wife is different: Norwegian fjords, American national parks, Kilimanjaro, Botswana, skiing in Switzerland, discovering the coast of Dalmatia, boating in Greece… Each new exploration is a source of inspiration, where the brain compiles everything it observes. It is a kind of library of sensation, of dimensions.

I'm very curious, and I analyse what I see. Why is it beautiful? Because it is well integrated? Small or big? Well proportioned? I measure everything with my fingers, dimensions, and proportions of the windows and openings… everything is balanced. When I made the Muscat Shedi, I immersed myself in the cut of the houses in the Omani countryside, which is beautiful. I measured everything and then transferred it to the design of the hotel.

It is said that you work "the old way", without a computer, a sheet of paper and your Artline 200 fine 0.4 black. Why do you do this?

Because I am unable to use a computer! But mostly to keep the charismatic side of our projects. The hand translates the heart. Sensitivity and emotion pass through it. Thanks to this, our hotels have a human dimension, without arrogance, they are spectacular without being grandiose, we feel good there, and we live well, without really knowing why. And this is, for me, the most beautiful compliment!

By drawing by hand, I express a vision and an emotion that makes the product successful.

You say you are a control freak. This has not prevented you from collaborating with other artists. Why did this happen? What did you gain from this teamwork?

I am a creative person, so I admire creative people: Stark, Renzo Piano, Calatrava, Tadao Andō, Kengo Kuma. Artists admire each other, there is no rivalry. Picasso never competed with Chagall or with Miró, they were friends and met in Saint-Paul-de-Vence. For me to work with another creative is a great honour.

You have a unique and almost filial relationship with the Aman Group. Can you explain what this relationship is and what it means to you?

My relationship with Aman is indeed familial. When Adrian Zecha started Aman in 1987, he was working with Kerry (Hill) and Ed (Tuttle), who he met on the Park Hyatt in Bali. And in 1989, he saw one of my projects and asked me to draw Aman.

For many, many years, Kerry, Ed and I were the three musketeers of Aman. We all draw Aman. There are maybe only 15 built, but there were 72 projects, whether it was just the concept or the construction. Some never saw the light of day because of environmental or political constraints… I designed 35 of them and prepared viability projects.

Until 2000, I had only worked with Aman because it occupied all my time. One day, Sol Kerzner asked me to work on Reethi Rah's One&Only, which was named the best hotel in the world, three times. It was the first time I worked for another operator.

Currently, I'm working on eight other Aman projects after New York (Bangkok, Miami, the Bahamas…). We're very close, we've established the Aman language and we speak it. We created the Aman look.

What was the greatest challenge you had to face, and how did you go about it?

It was in 1989, for an interior renovation project for the Jianguo Hotel in China, with design and construction. The Chinese revolution happened, and I had 47 containers blocked because of the border closure. The client called the bank for non-performance of the work, although it was a force majeure, and that day I lost 4.2 million US dollars. I was 34 years old. I refused and negotiated with the bank to spread the payment of this debt over three and a half years, and since then, I have never worked with a bank credit.

Is the environmental challenge the main challenge facing the luxury hotel industry?

Absolutely! The environmental aspect is part of our architectural, interior, and landscape language. If architects used to be able to boast about integrating the environment into their projects, today it's completely the opposite. It's a duty to integrate technical advances with the environment. All states, municipalities, etc. have integrated these environmental rules which have even become laws.

It's now a daily reflex to integrate these points: water treatment, energy control, insulation, new materials (ceramics, aluminium…). The new regulations and materials on the market make it possible to work on "environmentally friendly" projects.

After more than three decades of innovation, you don't seem to want to slow down. You are involved in several projects: a trio of Aman Resorts in Gabon, a property in Greece and a Hyatt and Andaz park in China. Can you tell us more about them?

Why does it take 40 years for an architect to become known? It's because it takes time to get things done, it takes five years to build a hotel. And it takes years to build a reputation. We've had great success with our projects, and the more you are known, the more you are in demand.

Today, we have three to four hotel requests a week. There are difficult choices to be made in accepting or rejecting projects, depending on the location, the operator, or the budget. We work with Cheval Blanc, Aman Resort, One & Only, St Regis, Four Seasons, Park Hyatt.

The three hotels you mention are part of our major upcoming openings. We are opening four hotels within a year, and we have 15 under construction and about 15 in progress, with villas, spas, etc… and our various international offices in South Africa and Mexico are taking over permanently.

If you had "carte blanche", what would be your dream project?

My dream would be to make an ice hotel, in Greenland or in the permanent ice, or to make the first hotel on the moon. Of course, there would be many technical constraints, but that's what would interest me.

You describe yourself as "the spoiled child of the hotel industry". Today, why work in the luxury hotel industry?

It's true that I consider myself a spoiled child of this industry. I like luxury because it corresponds to my codes, I like beautiful things, I like and collect art.

Which personality, who inspires you by his positive and innovative vision, would you like to see interviewed soon in the Journal des Palaces?

I like artists. A sculptor, a painter, for example Korean or Chinese, it could be interesting because Europe knows the European art world, but it would allow opening to another aspect of art and to leave its comfort zone. We would have to find a Japanese or Korean artist, as opposed to Rubens or Rembrandt.
About the author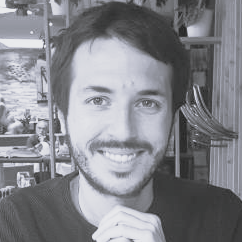 A journalist with many skills and an ever curious traveller, Christopher has a great attraction for carefully refined hotels, where characterful gastronomy, impeccable service and sincere elegance go hand in hand. A discreet and gourmet pen at the service of a certain idea of luxury.