Jumeirah Vittaveli has yet again introduced a first in the Maldives with its new fleet of stylish custom-made catamarans that await guests visiting this luxurious island retreat.
Designed by the award winning iYacht agency based out of Hamburg/Germany and operated by Jalboot, these vessels are inspired by the sophistication and elegance of Jumeirah Vittaveli.
Photo credit © Jumeirah Vittaveli

Jumeirah's dedicated airport personnel will welcome you on arrival and guide you to the resort's lounge where fresh coffee, homemade cookies and a relaxed atmosphere are on offer. Log into the complimentary WiFi to catch up on the day's news or post your first snap of arriving in this stunning island destination. Next, the resort's team will accompany you to our top of the line transfer vessels - luxurious catamarans that will make the 20-minute ride past idyllic scenery of lush tropical islands and endless ocean blues pass in no time.

Designed by the award winning iYacht agency based out of Hamburg/Germany and operated by Jalboot, these vessels are inspired by the sophistication and elegance of Jumeirah Vittaveli. The new catamarans come in three models – the Polestar, the Jumeirah, and the Classic Yacht. The Polestar's interiors are decked in lush tones of pale gold, cream and grey, the Jumeirah showcases darker bronze and turquoise shades that reflect the brilliant colours of the Indian Ocean; the classic yacht mixes rich wooden features with soft greys and beige. Each model features spacious lounge seating, inviting guests to relax the moment they step on-board, while they may enjoy a freshly brewed espresso from the on-board kitchenette, or browse through the latest Jumeirah magazine and familiarize themselves with the plethora of activities on offer at Jumeirah Vittaveli.

"I am delighted to be able to surprise our guests for the festive season, as we have many families and couples returning to their favourite holiday destination. It is a delight to know that we were able to introduce yet another service that will enhance our guests' experience while still keeping true to the elements that have become so dear to our guests – the genuine warmth and dedication that welcomes you the moment you meet our team at the airport and that will continue throughout your stay" comments Jumeirah Vittaveli's General Manager Abhijit Ghosh.

With a traditional Maldivian welcome and more activities to fill your days with than you can dream of, Jumeirah Vittaveli is the perfect place for all the family to speed things up or slow things down. Land and water-based activities include the destination's first ice rink, a PADI Dive base, water sports centre, Talise Spa, six restaurants and bars, a wine library, an overwater lounge, an underground whisky and chocolate salon and a cigar lounge. We've curated a collection of all of the most remarkable experiences the Maldives has to offer in one place. Shape your own unique Maldives experience here.

About Jumeirah Vittaveli:
A 20-minute boat ride from Male' International Airport brings you to Jumeirah Vittaveli. Whether for an intimate escape or an indulgent family retreat, Jumeirah Vittaveli offers unmatched diversity, subtle luxury and personalised exploration. Whether beach-side or over-water, all villas feature stunning interiors with private pools and access to the sandy shores or glistening waters. A special highlight is the sprawling 5-bedroom Royal Residence, as well as the new Private Ocean Retreats and Infinity Pool Ocean Villas with Slides. An inspirational Spa, a well-equipped overwater gymnasium, a children's club and 5 star PADI dive centre mean guests are always able to try something new.

About Jumeirah Group:
Jumeirah Group, the global luxury hotel company and a member of Dubai Holding, operates and manages a world-class portfolio of 15 properties in the Middle East including the flagship Burj Al Arab, 6 properties in Europe and 4 in Asia with 13 properties currently under construction around the globe.


Travel in style when you stay at Jumeirah Vittaveli Maldives.
Photo credit © Jumeirah Vittaveli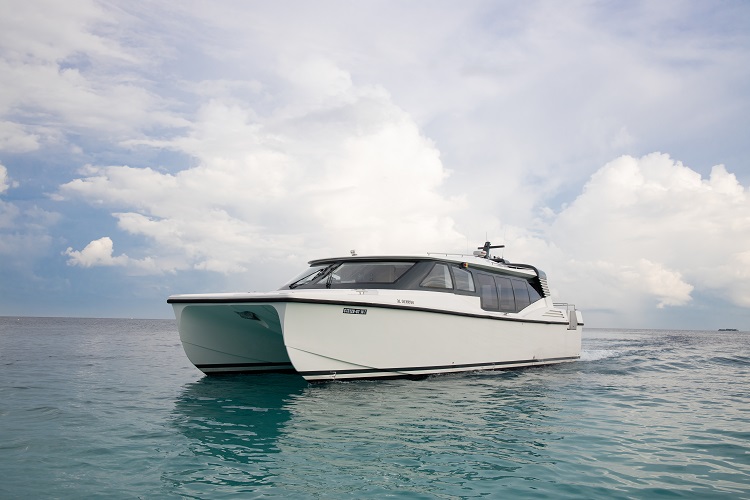 Each model features spacious lounge seating, inviting guests to relax the moment they step on-board.
Photo credit © Jumeirah Vittaveli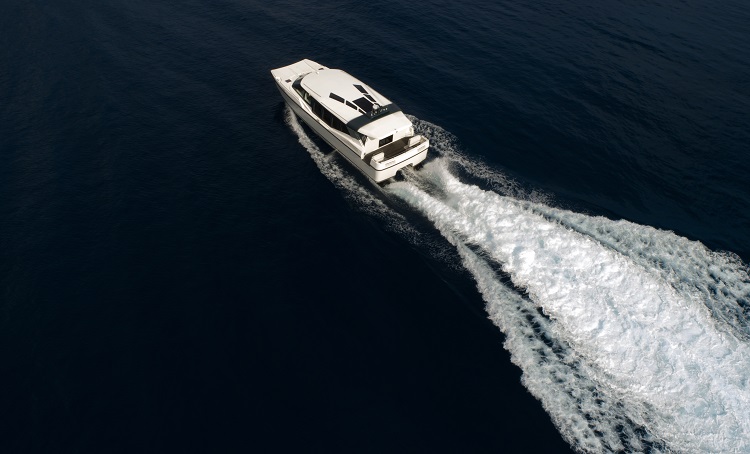 Jumeirah Vittaveli has yet again introduced a first in the Maldives with its new fleet of stylish custom-made catamarans that await guests visiting this luxurious island retreat.
Photo credit © Jumeirah Vittaveli