INTERVIEW - AMANDINE LENNE, HUMAN RESOURCES DEVELOPMENT MANAGER FOR CENTAURUS HOSPITALITY MANAGEMENT : "A 100% PERSONALISED INTEGRATION PROGRAMME" (France)

Amandine Lenne discusses Centaurus' good practices in the field of human resources, the CSR policy and the successful group's work on the employer brand.

INTERVIEW - AMANDINE LENNE, HUMAN RESOURCES DEVELOPMENT MANAGER FOR CENTAURUS HOSPITALITY MANAGEMENT : "A 100% PERSONALISED INTEGRATION PROGRAMME" (France)

Amandine Lenne discusses Centaurus' good practices in the field of human resources, the CSR policy and the successful group's work on the employer brand.

Category: Europe - France - Careers - Recruitment / Job / Training - Interviews
Interview made by Vanessa Guerrier-Buisine on 2023-04-05

The Centaurus Group is a family story. Four generations of the Albar family have succeeded one another before Céline and Jean-Bernard Falco took over the reins of the family establishments and created the Paris Inn Group in 2005, appointing Grégory Pourrin as general manager. The group specializes in hotel management and operates a portfolio of hotels on behalf of private investors. In 2020, Paris Inn Group becomes Centaurus.

Under the leadership of its founding partners, Jean-Bernard Falco, Céline Falco (born Albar), and Grégory Pourrin, the Centaurus Group is announcing the opening of more and more hotels in Europe and beyond. This development ambition is supported by the group's flagship 5* brand, Maison Albar Hotels, and by a strong corporate strategy.

The group, which is firmly established in France, feeds its growth by developing its talents. The Covid crisis was a great opportunity for the group to review its recruitment strategy and consolidate its employer brand.

This is the mission that was set for Amandine Lenne, who arrived at Centaurus in the summer of 2022 as group human resources development manager.

Since her debut at Oetker Collection in 2019, Amandine Lenne has had a very committed vision of the human resources policy of a hotel group. After two years at Louvre Hotels Group as a human resources officer, the challenge of joining the rapidly expanding family-owned group with 45 hotels seems to delight her. The Journal des Palaces wanted to know more about the human resources strategy of the Centaurus group.

Journal des Palaces: Could you present Centaurus in a few words?

Amandine Lenne: The Centaurus group is an independent French hotel group. We currently have 45 hotels, 27 restaurants and 17 spas and thalassotherapy centres in France, Portugal, Italy, Belgium, Côte d'Ivoire and China. We are constantly evolving and expanding exponentially.

You joined Centaurus less than a year ago. What were the first challenges you faced in your role as Head of Human Resources Development?

The first challenges I faced in my position were directly linked to the major issues of the company. Indeed, in an ultra-dynamic post-Covid context, the company reinitiated many ambitious projects that had been put on hold due to the crisis.

This context finally allowed for real opportunities to implement important and structuring actions in a short period of time: deployment of our employer brand and redefinition of our values, redesign of the Careers site and our recruitment methods, employee development and creation of the Centaurus Academy, as well as many other strategic projects for our talents.

The management had foreseen this return to strength and created my position as a result of their thinking and the restructuring of the HR function within the Centaurus group. It is a real pleasure to be able to work in this passionate and committed state of mind of a quest for improvement and a learning company that is ever more concerned with the development of its employees.

What is your group's recruitment strategy? How do you work on your employer's brand?

Recruitment and employer branding are very critical subjects for the Centaurus group, and we have been tackling these two issues head on since I arrived.

In fact, in addition to our new careers site, we are diversifying our recruitment channels, such as school relations and partnerships with the French employment agency Pôle Emploi. We are also working on internal and external communication, highlighting the group's philosophy, in particular through the testimonies of our talents, to put the spotlight on our establishments and the teams who work there.

We focus on our teams and encourage internal mobility and intra-group transfers through specific skills' development schemes and the participation of teams in cross-functional group projects. Finally, by redefining the values that represent us, we have above all implemented a concrete action plan aligned with these values, as well as federative projects to reinforce the attractiveness of our group.

Does the fact of being a family group change the philosophy of recruitment and management?

Yes, we are highlighting our authentic roots. Being a family group gives us undeniable strength by highlighting the company's heritage.

The founders of the group are present with the employees daily and pass on the values that have guided the company since its creation. This favours a close management and accessibility of the management, which is close to the teams, human and authentic.

In addition, the general management speaks several times a year, addressing employees directly, who can ask them any questions they wish, thus strengthening the link between management and the teams.

What have you implemented to attract talent?

We have implemented an employer brand strategy that aims to retain our existing employees while attracting new talent.

We are highlighting our destinations with diversified products, both in terms of range, size and location, notably by making them visible on our careers site.

Furthermore, we go further than our hotel business, for example, we have launched the great #TousEn100ble challenge to our employees to celebrate our 100th birthday in 2023; a collective relay of 100 days (the equivalent of 100 marathons!) around our destinations. All of this will benefit the construction of a hotel school in Côte d'Ivoire (1 km run = 1 euro raised for this project). This challenge allows us to strengthen the links between our teams and, by repercussion, to attract new talent.

How do you deal with the shortage of qualified candidates?

Firstly, we rely on referrals, encouraging our employees to recommend qualified candidates for vacancies by paying a bonus which we have increased.

Secondly, we have established partnerships with organizations to facilitate the hiring of international employees in the international context.

Finally, we have created the Centaurus Academy; we are becoming a learning company that allows employees with very few technical and operational skills to join our group. We focus on profiles and their soft skills rather than pure skills, and we offer training programmes to support them in their evolution within the company.

What are the profile characteristics that you pay particular attention to and that make the difference in your eyes?

The high-end hotel industry has many expectations, particularly in terms of attitude and interpersonal skills.

Furthermore, we take care to select candidates who are in line with the values of the Centaurus group: Solidarity, Transmission, Respect, Authenticity, and Responsibility.

Similarly, creativity, innovation, and boldness are also highly valued. Finally, motivation and the desire to surpass oneself will enable certain profiles to stand out from the others.

Which positions are particularly in demand?

Like the rest of the industry, we are currently facing a certain lack of manpower. This problem particularly affects operational positions in accommodation and catering.

Is a recruitment phase underway in the group's hotels?

We are recruiting all year round but have just opened the positions for the 2023 summer for our seasonal establishments in Belle-Île-En-Mer and Nîmes. Please visit our careers website to view our current vacancies: https://careers.groupecentaurus.com/.

What benefits are offered to the group's employees?

We are working to provide more and more benefits to reinforce our attractiveness: seniority bonuses from 2 years within the group, retirement bonuses, co-optation bonuses, an HR mobile application to keep you informed about the group's news, our standards, procedures, the SPART mobile application to take part in daily sports challenges throughout the year, tickets to win to attend matches at the Parc des Princes in our presidential box at Maison Albar Hotels, etc.

The group promotes the culture of sport and organizes solidarity sports events such as the #TousEn100ble challenge.

Other charitable operations are regularly set up, such as the donation of necessities in Ukraine.

There are also benefits that are specific to each hotel.

Do you highlight the group's commitments as part of your CSR approach to build loyalty among your employees? Do you involve them in solidarity or committed actions?

We highlight the commitments of the Centaurus group as part of our CSR approach to build loyalty among our employees and enable them to give meaning to their work. The employer brand is an integral part of our CSR project.

We consider CSR to be a powerful tool that gives meaning to all the actions we undertake. We involve our employees in solidarity or committed actions, such as our commitment in Ukraine, our #TousEn100ble project for the creation of a school in the Côte d'Ivoire, or our health prevention programme in partnership with Elsan Prévention.

These actions allow our employees to get involved and contribute to the success of our company while having a positive impact on society.

How do new employees integrate into Centaurus?

It is a 100% personalized integration process, both physical and digital.
We are developing a tailor-made application for the Centaurus group that allows us to address the recruit in a fun and accessible way. On arrival, the employee has everything he needs in his pocket!

As soon as the trial period has been validated, the new employee joins the Centaurus Academy to perfect the skills acquired during the integration. At Centaurus, onboarding does not stop on the first day or the first week!

Is there any special treatment between the induction of middle-managers and operational staff? Are specific training or support offered to these two categories of employees?

At Centaurus, there is no special treatment between the induction of middle-managers and operational staff. We offer specific training and support to all our employees via our Centaurus Academy, which is personalized according to department, and our application, which is personalized according to status.

Whatever the position, induction is an opportunity to showcase the group's values and systems, and to present all our destinations with pride.

We treat each new employee who joins the group in the same way, with the same attention and the same resources to enable them to flourish in their position and contribute to the success of our company.

Do you have partnerships with schools to recruit apprentices?

Yes, we have partnerships with schools to recruit apprentices, in particular with our historic schools and long-standing partners such as Ferrandi, Paul Bocuse and CMH Academy.

These partnerships enable us to train qualified future employees, in line with our values and operational needs. We are convinced that apprenticeship is an excellent way of preparing the next generation and encouraging the professional advancement of our young talent.

In your opinion, are young graduates sufficiently experienced to face the reality of the field?

Often, the image they have of the company is different from the reality in the field.

Our responsibility is to do everything we can to support them and make them aware of this reality. We don't spare experience, and it's our role to help them acquire it.

What advice would you give to a young person who wants to work in the world of luxury hotels?

The world of luxury hotels is above all a field of passion. It's all about making sure that the guest is delighted and has an exceptional experience.

If you wish to work in the luxury hotel industry, you need to understand the magic of our industry and then enhance it through creativity and innovative proposals.

It is then important to invest yourself and get involved in your job.

At Centaurus, we allow everyone to collaborate in the projects proposed by the hotel and the group. Indeed, solidarity and transmission are fundamental values of the group that will allow them to progress in our universe.
About the author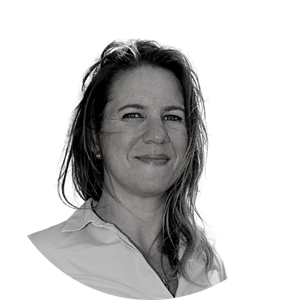 As a journalist and luxury hotel expert inspired by the men and women who embody it, Vanessa aspires to enhance and sublimate the beauty and elegance of palaces through her writing. "In a palace, simplicity serves the quest for excellence" she admires.