INTERVIEW - VANESSA LANNOU, TALENT DIRECTOR, IHG SOUTH-EAST ASIA & KOREA: "IT ALL STARTS WITH A CONVERSATION"

"The guidelines for talent management at IHG are defined at a global level, but as soon as you apply these strategies in a local environment, a great deal of agility is required".

INTERVIEW - VANESSA LANNOU, TALENT DIRECTOR, IHG SOUTH-EAST ASIA & KOREA: "IT ALL STARTS WITH A CONVERSATION"

"The guidelines for talent management at IHG are defined at a global level, but as soon as you apply these strategies in a local environment, a great deal of agility is required".

Category: Asia Pacific - Careers - Recruitment / Job / Training - Interviews
Interview made by Vanessa Guerrier-Buisine on 2023-05-24

The rise of Vanessa Lannou within the IHG Group is the story of a hospitality enthusiast who has chosen to put her career at the service of others.

After graduating from the EHL Hospitality Business School, Vanessa Lannou, who planned to pursue a career in a finance department, was driven by her taste for developing talent.

This is how the French-Swiss woman became Talent Director, South East Asia and Korea for IHG Hotels & Resorts. Following her previous role as Global Talent & Leadership Strategy Manager for the same group in the UK. She is now taking on the challenge of adapting IHS global codes to the specificities and local cultures of the countries of South East Asia and Korea.

Growing and developing talent, impacting local communities, and supporting managers to make a significant impact on the lives of their employees are all exciting challenges for the Talent Director.

In an interview with Vanessa Lannou, Le Journal des Palaces was eager to learn more about IHG's objectives and strategy in this region of South East Asia – Korea.

Journal des Palaces: Could you outline your background?

Vanessa Lannou: I started at the EHL Hospitality Business School in Lausanne by pure chance.

During my four-year course at EHL, I chose market finance and real estate as my specialisation. I attended the IHG Future Leader in Finance programme at the InterContinental Park Lane in London, so that I could explore the many facets of the hotel industry and everything it has to offer in terms of career development.
After these 2 years, I realised that I loved finance, but I preferred the connection with people.

I realise that many of us are lucky enough to go to great universities, to be able to pick the career of our dreams, but that not everyone is so lucky. That is why I have this passion, this need to "multiply" the experiences of others. Every day, I want to have a conversation that, I hope, will give another person confidence. It all starts with a conversation, creating that environment where you can start to get to know people, open another door of opportunity, get out of limiting beliefs.

That's how I swung into the HR world, from hotels to the Corporate Office.

What are your duties and challenges as Talent Director South East Asia & Korea at IHG Hotels & Resorts?

I have two key responsibilities.

The first is the talent pipeline of general managers for the hotels in the region, but also for the hotels that we are going to open because we have a very ambitious growth agenda. We must have a strategic vision, to make sure we have the right general managers, to open and manage these hotels.

As a talent manager, my responsibility is to make sure we have the right processes and the right relationships with partners. And that we have the right visibility within the group to make sure we use the right strategies.

My second responsibility is for the corporate teams at IHG. Colleagues in support functions, like human resources, finance, marketing, distribution, development. It's quite a similar role, making sure you have the right talent in the right roles to have a vision on succession planning for the future.

What are your employer brand commitments?

We have a brand promise, which can be seen in the "three rooms":We want our people to feel included and safe, free to be their authentic self and able to do their very best work. We expect our employees to bring their best self and their whole personality, with all its facets.

This is part of our Diversity Equity & Inclusion agenda, which is a very important part of our Journey to Tomorrow, where we have this ambition to be able to positively impact the lives of a range of people.We want them to feel excited about the experiences they will gain, and the opportunities they will have to develop their skills and shape their journey. This is where my role is critical. Together with my team, we need to ensure that every IHG employee has the opportunity to develop their career. We create an environment where employees can talk to their managers about their ambitions, and then we put in place learning and development activities, such as the Journey to Supervisor.

This is where our people need to know what they have access to, what programmes; what mentoring initiatives are in place within IHG.

Room to Make a Difference

We want them to feel inspired to push what's possible, and focus on doing meaningful work that has a positive impact. We talk to them about our Journey to Tomorrow, which makes sense by having an impact on their local community, with volunteering, giving back. The hotel is a key partner because it creates many jobs.

In concrete terms, we are going to propose all these tools, this philosophy, these "three rooms" to our hotels, which will be responsible for using them, adapting them to their market and its nuances.

What is the Group's strategy for attracting and retaining talent in the South East Asia-Korea region?

The broad outlines of talent management at IHG are defined at a global level, but as soon as you apply these strategies in a local environment, a great deal of agility is required. You need to know the markets very well.
We work a lot with our teams on the ground, in the hotels, to understand where the future talent is: on Facebook, on TikTok… We have to think more about the future profiles, which will need very different roles, will have completely unique expectations.

The challenge is to keep this current and future vision.

Can you mention a few examples that promote employee loyalty?

Among the many examples, we are trying to create environments in which parents have less pressure for childcare because working shifts requires complex organisation.

The Crowne Plaza Vientiane, Laos, is our pilot hotel in this respect. It has opened a childcare centre for employees. The same childcare concept will be piloted in the Holiday Inn, which will open in the same city in 2024.

This has enabled them to retain young parents who would otherwise have had to leave their jobs.
We are working with our teams in the hotels, and with students in the universities, to understand where we can be more creative.

What is the IHG Academy?

It's related to our Room to Grow, but for people or candidates who are not yet employees in our hotels. The IHG Academy is about managing the very beginning of a career. We go to schools and talk to young people who are not yet in schools or universities.

We also have the IHG first look, dedicated to middle school students. We are proactive with our communities, trying to create excitement, interest in our industry, in our hotels. We may invite a class of school children from a local college to come and learn about the hotel business. We show them what a hotel is like, in the back office, its jobs.

This is where our talent retention work starts because if these young people don't know what the hotel business is, once they get to university, they won't choose it.

What about the IHG Skills Academy?

We have just launched the IHG Skills Academy, which is part of the Academy.

This is something that many people at IHG talk about with great pride, something that has never been done in our industry.

We have managed to be the first to offer this free virtual learning platform, accessible to everyone, for people who are not yet at IHG. It's for people from different countries, with different purposes, different backgrounds, different expectations.

The IHG Skills Academy offers development, learning, for anyone who would like to gain confidence, who would like to learn about the hospitality business, but also who would like to be ready for work.

People who have perhaps never worked, who have never had access to education, will be able to access training, with different materials, different learning subjects, such as leadership, well-being, mental health.
The strength of this platform is that this content is only partly created by IHG, on very targeted topics, such as an introduction to hospitality. We are working with different content partners, globally, and with local partners, such as the government of Saudi Arabia, which is very proactive in bringing women into the workforce as part of a government strategy.

We are now identifying all these partners, who can add their content so that this platform is constantly evolving. The content is being filtered by IHG so that there is no inappropriate content or content inconsistent with the brand values.

250 learning topics and 5 core courses, each translated into 8 languages to make the IHG learning experience accessible worldwide, are already available.

Our goal is to impact the lives of 30 million people by 2030.

Why and how do you engage with local communities?

Future and current employees are starting to ask what we do in our communities, so it's not just a marketing stunt. That's what I love about this next generation, is that young people actually want to know what the ESG mission is.

Hospitality is one of the few industries where you can open the doors to sources of talent that wouldn't have access to a steady income.

We work a lot with groups of people who are less privileged, who would normally have a hard time finding a job where there is social security, where there is stability.

With 'Room to make a difference', we ask each general manager to have a personal activation plan for their hotel. This will depend on their demographic situation.

For example, in the Maldives, our hotels will work with the local university to set up programmes because there are few women leaders, as it is not in the culture.

In Laos, the Crowne Plaza Vientiane has welcomed young people who grew up on a banana plantation for workshops with the kitchen staff. The young people, who grew up without access to running water or electricity, learned how to turn their bananas into chips, jam etc.

Back in their hometowns, some of them have been able to start their own small businesses, and will be able to support their families and local communities. Furthermore, in our hotels, the marketing teams have supported them in creating logos and mini-business plans. This is a source of pride for all the teams involved, who have shared photos of these moments on their networks.

What advice would you give to a young person who wants to work in the luxury hotel sector?

You have to be in charge, you have to take control of your career. Never forget that nobody is going to make your career for you.

Take responsibility for yourself. You should never wait. Look at all the great CEOs, all the people who love what they do, it's because they took full responsibility for their career, they went and pushed the doors, even thinking they weren't really ready, but they went.

Don't wait for people to offer you your dream career.

 
About the author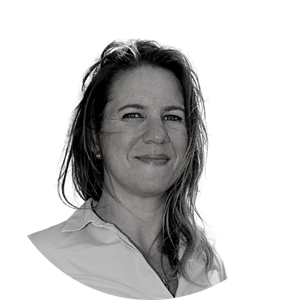 As a journalist and luxury hotel expert inspired by the men and women who embody it, Vanessa aspires to enhance and sublimate the beauty and elegance of palaces through her writing. "In a palace, simplicity serves the quest for excellence" she admires.