INTERVIEW - ALAIN ELLOUZ, FOUNDER OF ATELIER ALAIN ELLOUZ: "CREATIVITY IS AT THE HEART OF OUR WORKSHOP, IT IS A PROCESS IN PERPETUAL MOTION".

"I never take paths similar to others; I prefer to seek to go beyond the limits of what is considered by others as impossible. The unknown is my playground!"

INTERVIEW - ALAIN ELLOUZ, FOUNDER OF ATELIER ALAIN ELLOUZ: "CREATIVITY IS AT THE HEART OF OUR WORKSHOP, IT IS A PROCESS IN PERPETUAL MOTION".

"I never take paths similar to others; I prefer to seek to go beyond the limits of what is considered by others as impossible. The unknown is my playground!"

Category: Worldwide - Suppliers - Providers - Interviews
Interview made by Christopher Buet on 2023-05-25

The saying goes that the most beautiful stories are set in stone. For his, Alain Ellouz chose a different stone: alabaster. A mineral that also looks milky but is much softer and more mouldable, already used in Antiquity to make perfume vases.

In 1995, the artist discovered this mineral whose translucence fascinated him as much as the possibilities he saw. He was struck by the obvious: alabaster was not recognised for its true value and offered a horizon for his creative ambitions as a young sculptor. After 10 years of working with it, the idea germinated to make it the basis of his projects and above all to open up new and more contemporary perspectives.

His meeting with the designer Marion Biais-Sauvêtre, a recent graduate of the Arts Décoratifs de Paris, confirmed his intuitions and led him to push his creative thinking around new technical and esthetic requirements. It was there that he founded the workshop bearing his name, where 45 people now work, and set out to explore the luxury market.

The artist plays with the unique properties of alabaster in a game of light and transparency through sober and elegant products that fit into any interior, while adding a touch of sophistication. Whether it's lighting fixtures, screens to redesign a room or furniture, everything is a way to express creativity and experience the metamorphic nature of alabaster.

Relying on his in-depth knowledge of his element, Alain Ellouz develops his expertise and lets his imagination propose ever more audacious and complex creations that are worthy of the places that call upon him. La Messardière or the Hôtel du Cap-Eden Roc, and many others are seduced by the French artist, whose symbiotic approach and name are whispered about in luxury hotels.

Above all, he diversified by tackling rock crystal, which is also translucent and of great purity, and began exporting. A showroom opened in London in 2016, followed by another in New York,to fulfil orders from all over the world.

For the Journal des Palaces, the Parisian artist highlights three decades in which he pushed back the limits of his creations to express a fascinating artistic approach.

Journal des Palaces : What is your vision of luxury?
Alain Ellouz : For me, luxury means unique purity and beauty. It is giving the original to aesthetes; providing something rare to those who appreciate its value.

What do you draw your inspiration from when you create?
I am a fan of all the contemporary art museums in the world, but I don't take inspiration from one artist or another, I look deeply into their creations. Inspiration is like the wind, you have to leave the window of your mind open for the wind to come in. You have to remain optimistic and turn difficulties into opportunities.

I never follow paths similar to others; I prefer to try to go beyond the limits of what is considered by others as impossible. The unknown is my playground! Creativity is at the heart of our workshop, it is a process in perpetual motion. Inexhaustible. We take our expression in unexpected directions to discover new horizons.

You recently launched the MY range. What does it consist of?
The MY range consists of two backlit alabaster wall lamps of different heights (45 and 65 cm), minimalist and timeless. They are made up of two thin alabaster elements joined together in perfect symmetry by a black steel rod. The diffuse lighting of each of the two parts responds to each other in a play of light. They are perfect in a mountain hotel, echoing the snowy peaks, installed in a lobby or in a hotel room.

You have developed lighting around alabaster and crystal. Why do you work with these two materials? What are their advantages and disadvantages?
These two stones reveal themselves in the light. Alabaster is a magical, luminous stone. It seems that this stone tells you a different story every time. The stone is vibration; the resonance of alabaster brings serenity. A specific and rare crystallization of gypsum creates the unique texture and translucent appearance of alabaster. The natural stone offers a myriad of patterns and shades. Fluid or crystallized, white or ochre, each alabaster piece is unique. After a rigorous selection process, we shape and design alabaster to create pieces that highlight the unique aesthetic qualities of each stone.

Rock crystal is a gem and is comparable to a diamond. The most beautiful rock crystals are cut in Madagascar, where we select the finest stones. Rock crystal takes us to a completely different world of light. Its translucency combined with its natural elegance has inspired our designers to develop contemporary chandeliers, reminiscent of jewelry prisms, all assembled by hand in our workshops. The refinement of the workmanship and the mastery of light make these rock crystal creations unique.

Your creations go beyond simple lighting and are akin to sculptures, almost works of art in their own right. Why and how does this make you different from your competitors?
We have invented a new art craft that combines the precise manual gestures of stone sculptors and woodworkers with the latest technology in light control and alabaster protection. Our sculptors explore sculptural forms, new textures and create a dialogue between form and light. Then come the woodworkers who work with stone as they do with wood - layout, cuts, assemblies, marquetry…

Finally, our Stonelight treatments, a series of resin and varnish applications, enable us to meet the challenge of integrating alabaster into works requiring solidity and impermeability. Our finishes are designed to improve light diffusion and lighting effects. The selection of each piece of stone, the precision of the gesture, the unfailing rigour, the quality of execution and installation of the works allow the Atelier Alain Ellouz to be part of the French heritage of the best craftsmen and to be the only one in the world to have a total mastery of alabaster.

To what extent could your work be defined as that of a goldsmith and scenographer?
We create bespoke lighting and daring architectural works with the greatest international designers and the most beautiful luxury brands. We take up the challenge of integrating alabaster into monumental works : walls several tens of meters high, lights on several floors in a stairwell, etc.

For the Chaumet flagship in Place Vendôme, we created a hand-cut gemstone that houses the brand's most beautiful jewellery. All our creations contribute to the screepting of the most beautiful brands or the most beautiful places.

What is the most exceptional creation you have made?
Our two new luminaires, Infinity 16 and Illusion, perfectly illustrate our skills. Formal research based on a vocabulary of simple shapes, combined with technical prowess. Infinity 16, for example, deploys four large backlit alabaster loops over a span of three meters. As for Infinity Illusion, depending on the angle from which the luminaire is viewed, a new random configuration appears. A true optical illusion.

Does your artistic thinking also take into account a responsible dimension?
Based on the virtuous principle of eco-design, our EDITION collection uses the smallest alabaster stones extracted at the same time as the large blocks. We transform this treasure of the earth into a real work of art!

What is the company's CSR policy?
We train young people internally in our very special skills: stone carpenters. We always encourage internal promotion, and we quickly advance our young people to key positions.

Which prestigious establishments do you work with?
We work with the biggest luxury brands for their boutiques (Dior, Chanel, Guerlain, Louis Vuitton, Chaumet, Rolls-Royce, Jaeger Lecoultre, Van Cleef, etc.), prestigious hotels such as La Messardière, the Hôtel du Cap-Eden Roc, Maison Villeroy, the SOFITEL Legend hotels, the Mandarin Oriental, the Four Seasons Residence in Los Angeles, as well as private residences for celebrities, like the King of Morocco or the King of Saudi Arabia.

What are the requirements of the luxury hotels you work with?
The luxury hotels we work with have very high security requirements. Our creations often weigh tons, and we have to ensure the solidity and safety of our works over time. Our design office has six people who calculate and check everything! Finally, our fitters challenge the laws of weightlessness, assemble without visible joints and work all over the world to ensure the quality, safety, and durability of the workshop's work.We bring something unique to hotels, as well as a sense of mystery.

How do you work with hoteliers and architects? How far do you go with the thinking?
The scenario is given by the interior architects and hotels we work with. All the development is then done by our design office and our technical office. All the calculations are done in-house. At every stage of the project, we work hand in hand with our clients.

For the Maison Villeroy, we imagined the impossible. A 25-metre-high mast on which 45 alabaster spheres are attached in a cluster, or an imposing metal and alabaster structure weighting more than a tonne and suspended from the sunroof of a private residence in Saint-Jean-Cap-Ferrat.

What are your next development projects?
In our New York showroom, we are launching a preview of our first art capsule, which revisits our collections, during New York Design Week. Then, next autumn, we will open a flagship in Paris, halfway between an art gallery and a showroom, in a magnificent location on the banks of the Seine, a few steps from the Monnaie de Paris. Finally, we want to create a production unit in Chicago, closer to our American customers, our first market.
About the author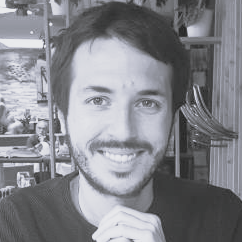 A journalist with many skills and an ever curious traveller, Christopher has a great attraction for carefully refined hotels, where characterful gastronomy, impeccable service and sincere elegance go hand in hand. A discreet and gourmet pen at the service of a certain idea of luxury.