Meeting with Jean-Gabriel Pérès, former CEO of Kerzner International and Mövenpick Hotels and Resorts.

"I am deeply and passionately, a hotelier. It's something that never goes away."

Meeting with Jean-Gabriel Pérès, former CEO of Kerzner International and Mövenpick Hotels and Resorts.

"I am deeply and passionately, a hotelier. It's something that never goes away."

Catégorie : Monde - Carrières - Interviews - Recrutement, emploi, formation - Interviews
Interview réalisé par Anne-Laure Hecquet le 25-05-2018

Jean-Gabriel Pérès looks back on his rich career and the core values ​​that have accompanied him during these years, and also provides key tips to young talents at the beginning of a career in hospitality.

"I didn't start out in the hotel business. I started selling planes and buying oil, and then one day, I joined Le Méridien group, and from then on, everything happened very quickly."

Indeed, he started out in the aeronautics industry, which was hardly the obvious starting point for a career in luxury hospitality; but early on, Jean-Gabriel Pérès was recruited by Le Méridien group to manage the development of hotels in Africa. However, his sights were set on Asia, a part of the world he knows well, and where he wanted to settle while the region was in full expansion. He convinced his superiors to entrust him with the development of the region: "it was the moment when the stars aligned," he says. "There are times when you realise that someone believes in you, that they are willing to show it and take risks. It was indeed taking a huge risk to appoint a 30-year- old as the head of a whole geographical region."

He believes that he has been very lucky in his career to have met the right people:
"Those who trust you and make you progress."

It was these trusted mentors who have shaped the choices he's made.

"These people [mentors] take a chance on you, rely on you, and above all, give you the opportunity to reflect, and discuss professional projects." As he points out: "It's important to have someone to exchange ideas with because there are times when you are very much alone when you hold a senior post."

He remained with Le Méridien group for 13 years, until 1997, when the whole of Asia was rocked by a major economic crisis. He was then contacted by one of his mentors and former CEO of Meridien, Rodolphe Frantz, to restructure a company specialising in the distribution of luxury goods in Asia. He learnt from this experience that in the word of luxury, first and foremost, one has to understand the brands down to their very DNA. He would always remember that lesson and implemented it throughout his career at Mövenpick Hotels & Resorts, a group he joined in 1999.

"It was a pleasure to upscale the positioning of the hotels. This upscaling allowed us to create some magic whilst being very good at providing our services on a daily basis. We were applying the motto of Mövenpick's founder, Ueli Prager: " We don't do anything extraordinary, we do ordinary things in an extraordinary way."

In 17 years, under his leadership, Mövenpick Hotels & Resorts grew from 32 to 85 hotels, with another 25 under construction. In 2016, he left to become President and CEO of Kerzner International, a position he held until the end of 2017.

Nowadays, Jean-Gabriel Pérès devotes himself to the development of hospitality training schools for street children in Vietnam and Nepal. He also gives mentoring advice to MSc and MBA students on the Hospitality Management IMHI-ESSEC programme and, at the same time, he advises luxury hotel groups on their development plans, because as he states: "I am deeply and passionately a hotelier, it is something that never goes away."

What key advice would you give to recent graduates?

If you have skills and the right attitude you will always have a job in hospitality. The doors will be wide open for you. You have to be ready to commit and be willing to go abroad. Moreover, you have to work hard, but if you are passionate about your work, you will try your hardest. There are real prospects for progression in the hotel industry, but you have to believe in yourself.

Have good listening skills, be curious.

Build and cultivate your network with empathy and a true willingness to help and serve.

Questioning yourself is also necessary in a rapidly evolving and changing business.

Do not think about what's good for you, but think about what's good for the company or for the team you will be leading.

Finally, find a hands-on mentor who inspires you and appreciate when someone believes in you and gives you opportunities to grow.

What maxim guides you?

Ralph Waldo Emerson's definition of success:

To laugh often and love much;

to win the respect of intelligent persons

and the affection of children;

to earn the approbation of honest critics

and to endure the betrayal of false friends;

to appreciate beauty;

to find the best in others;

to give of oneself;

to leave the world a bit better, whether by a healthy child,

a garden patch or redeemed social condition;

to have played and laughed with enthusiasm and sung with exultation;

to know that even one life has breathed easier because you have lived--

this is to have succeeded.



A propos de l'auteur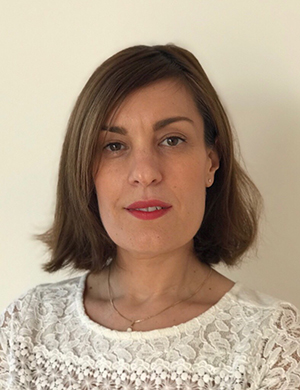 Anne-Laure Hecquet, Communication & International Development Manager
Specialized in communication and recruitment, Anne-Laure participates, since January 2018, in the development of Journal des Palaces by being attentive to the specifics needs of the recruiters and partners whether it is in the implementation of events or custom-made tools or services. Anne-Laure also writes articles for the Career section.