INTERVIEW - JEAN-CLAUDE LAVOREL, FOUNDER OF LAVOREL HOTELS: "WE NEED TO SEE SMILES AND HUMANITY". (France)

"In my previous group, in the health sector, caring for people was one of our values. Here, we serve the same purpose; we must care for our guests".

INTERVIEW - JEAN-CLAUDE LAVOREL, FOUNDER OF LAVOREL HOTELS: "WE NEED TO SEE SMILES AND HUMANITY". (France)

"In my previous group, in the health sector, caring for people was one of our values. Here, we serve the same purpose; we must care for our guests".

Catégorie : Europe - France - Interviews - - Interviews
Interview réalisé par Vanessa Guerrier-Buisine le 19-05-2023



Jean-Claude Lavorel, founder and CEO of the Lavorel Group
Crédit photo © Lavorel Hotels

Jean-Claude Lavorel has developed a hotel group that juggles with the codes of the hotel industry. Whatever their category, all the properties of the Lavorel Hotels group can boast of sharing the pleasure of receiving guests, the taste for service and a sense of simplicity.

The President of the company not only promotes these values, but above all embodies them by working closely with his teams to share the emotions of the profession.

The man, who succeeded in the home health business, fell into the hotel industry almost by chance. The acquisition of La Potinière in 2008, transformed into Les Suites de la Potinière, was the beginning of an adventure that has lasted 15 years. As it has grown, Lavorel Hotels, launched in 2012, has not only expanded its hotel portfolio to 12 establishments, but has also diversified its offerings, with the recent launch of the Kopster brand and the addition of two other types of "products".

In 2017, he took on river tourism with the purchase of Lyon City Boat, rebranded as Les Bateaux Lyonnais, before acquiring a wine estate, Château des Ravatys, in 2020. Two new strings to its bow to develop an offer dedicated to both business and private events.

Jean-Claude Lavorel has developed his group according to the opportunities that arise, but above all according to the people he meets, like the Chabichou, the group's flagship and the result of his encounter with the Rochedy couple.

The Journal des Palaces met this self-made French entrepreneur, who offers a relaxed hotel style, where luxury is hidden in the details, and above all in the smiles of the teams.

Journal des Palaces: Did your background as an entrepreneur in the health sector influence your vision of the hotel business?

Jean-Claude Lavorel: Instead of serving guests as in the hotel business, we served patients, and we did it in their homes. Nevertheless, we are in the same mindset.

I have always advocated quality of service, smiles, and cleanliness to my teams, even in my home health group. It's about absolute service, empathy, and discretion.

Today, I apply the same concept to hotel guests. I think it is very important, not to say fundamental and indispensable, that my teams have this empathy, care for the guests. That we enjoy their presence and that we are happy to welcome them.

So, it's this side of excellence, while being relaxed and uninhibited.

Guests no longer want the old-style hotel business, which is too stuffy and uptight. Today, they want a warmer, closer, more friendly contact.

Why did you choose the luxury hotel segment as the first market to develop Lavorel Hotels?

It was by chance. I still had my group in the health sector, and I was presented with this hotel, La Sivolière in Courchevel, which I fell in love with. I then thought, "why not the hotel business?".

Why did you create the Kopster brand? What does it bring to the Lavorel group?

We created a brand from scratch, Kopster. It's an original, offbeat concept, but one that appeals. We bring a lot of warmth and conviviality to it, so it works very well.

Our first opening, in Décines-Charpieu, France, was a gamble, in the middle of nowhere. Today, it is a small town.

We have adopted a differentiating decoration, quite original, marked, and not simply lifestyle. For this first establishment, we chose a wallpaper that reminds me of my childhood, and each hotel will have an animal as a theme.

I did the same thing in Colombes, we imagined the hotel on a vacant lot, where projects have since sprung up like mushrooms. A new city has been created.

The atmosphere we have is obviously very appealing. A third Kopster will open in September, in Porte de Versailles, France.

How do you maintain the demand for excellence in these hotels?

When you sum up the hotel business, you need a good reception, a good chef, a good kitchen. You need friendly, smiling receptionists who explain the experience you are going to have. You can be casual and professional at the same time.

Perfection is in the details. Paperwork, dust, cleanliness, everything counts. Management must be demanding at all times.

With Kopster, you have extended Lavorel Hotels to 4-star hotels. What role does the luxury hotel sector play in your strategy?

In addition to the luxury hotels already in the Lavorel Hotels portfolio, we continue to make acquisitions.
In 2021, we had the opportunity to acquire a hotel with a rather special concept, the Grand Pavillon de Chantilly (formerly the Hyatt Regency). The hotel is very busy with many seminars during the week, but also many Parisian clients at the weekend. They come to get away from it all, enjoy the 1200 m² spa and take advantage of the restaurant, and soon an educational farm, when all permits are obtained.

A second project is starting this winter, with the creation of an outdoor swimming pool. The Kids Club will complete the project.

You were familiar with the world of hospitality as a guest, what contrasts did you notice between your vision as a guest and as a hotelier?

I still have this critical view, as I don't only sleep in my hotels. I find that the reception lacks empathy, human warmth. This bothers me a lot because even if some employees make the difference, and in general, they are noticed, it should not be them, it should be the whole staff that is noticed and that makes the difference. We need smiles and humanity.

In my previous group, in health, this was one of our values, to take care of people. Here we serve the same concept; we need to take care of our guests.

What is the best definition of luxury for you? And of luxury hotels?

We should never say no. When you get a request from a guest, you have to do everything you can to meet it. This is the basis of luxury, the difference between luxury and "not so luxury".

In luxury, you have to anticipate the guest's expectations, by asking the right questions; did you like it? Did you enjoy the venue we booked? What kind of flowers do you like? What newspapers do you like to receive in the morning?

What is your relationship with your employees?

As far as possible, a close relationship with a lot of empathy and affection. On my birthday, my team wrote a song for me and sang it. It was quite great, very moving.

I am currently not working to succeed and earn more money, but to be with them, to share, to feel them happy, to receive messages like the ones I received.

I am happy to go to my hotels to meet my teams.

As the founder of the group, do you manage to meet the guests of your hotels?

The only ones I manage to meet are sometimes the guests of the Chabichou, when I am in Courchevel and there are regular guests. They are introduced to me because they like to know the owner.

How do you motivate your teams?

A lot of their motivation is emotional, that is, sharing with them what concerns the group. They are aware of all the results, from the budget to the turnover or the profitability. I also pay them the sharing bonus.

I hold two meetings a year, for the New Year and before the summer. Likewise, I tell them "this is where we are, I appreciate your efforts, thank you and well done". It's important that they hear that what they are doing is great for the company, that I'm grateful, that I'm aware of it and grateful.

What is the most memorable moment in your hotel career?

Perhaps the signing of the Chabichou. I used to walk past this establishment regularly, and I thought it had a lot of charm. When I went in, I found that this place had a soul. And its reputation also played a role because when I was in the medical field, doctors spoke to me about the Chabichou.

When I met Michel and Maryse Rochedy, I sympathized with Michel, who was a lovely, warm guy. I then discovered the story, their story, which started with a small chalet.

The day I acquired the Chabichou, it changed a lot in the dimension and in the vision of our little group. The Chabichou has an international reputation and is a monument in the resort.

Is there a specific property or place among them that you are particularly fond of, and why?

The Château de Bagnols always gives me a wow effect, for its view, its location, its castle.

What is your favourite time of day in your job?

When I arrive in the morning, meet my team, and we share a coffee.

What advice would you give to a young person who wants to work in the luxury hotel industry?

To be demanding. If you are demanding with yourself, you are demanding with others. The rest is just common sense.
A propos de l'auteur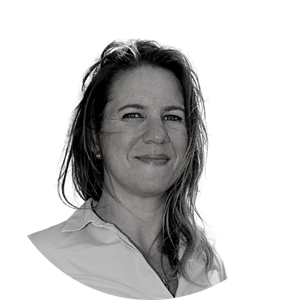 As a journalist and luxury hotel expert inspired by the men and women who embody it, Vanessa aspires to enhance and sublimate the beauty and elegance of palaces through her writing. "In a palace, simplicity serves the quest for excellence" she admires.